Azalea Hotels and Residences Boracay – Your Holiday Haven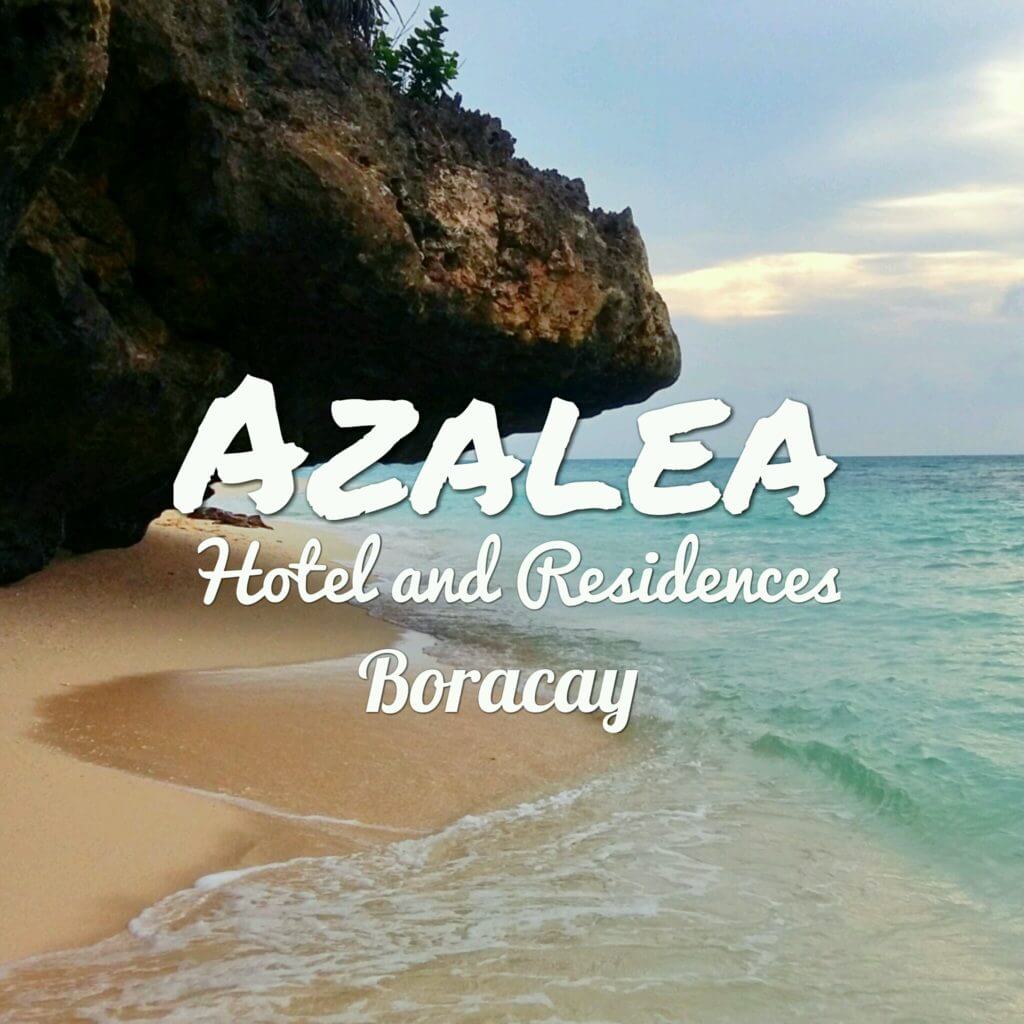 Since I've been bitten by the travel bug, I promised myself to visit Boracay every year. After Laboracay, I thought I wouldn't be able to visit my happy place this 2016. Good thing, I got an invitation from Azalea Hotels and Residences Boracay to stay at their new hotel for four days. When I got the invitation, I knew that it would be a fun trip because Azalea knows how to host a vacation.
Azalea Hotels and Residences Boracay
Azalea Hotels and Residences Boracay has an all-suite rooms in its 6 –storey building, located conveniently near the famous White Beach of Boracay. The hotel features spacious rooms that are fully equipped with full kitchen, living room and dining room. The area of their rooms ranges from 30 square meters to 75 square meters. The whole hotel radiates a fresh ambience with its sleek and contemporary design that is only befitting for the most beautiful beach in the world – Boracay.
When we got there, we were welcomed with all-smiling staff of Azalea. They gave us shell necklaces and a tasty fruit shake from Kuya J. As soon as we entered the building, I was pleasantly captivated by their lobby's modern design. It has a wide LED screen that changes depending on the time of the day which is really cool. At the roof top of the hotel, they have an adult pool and a kiddie pool.
The hotel is located in Station 2 near McDonald's. It is just a walk away from the bars, restaurants and commercial shops of the White Beach. D'Mall is very accessible from the hotel.
The hotel uses an innovative key card in a form of a waterproof wristband. The idea is for the guests to avoid losing their keys from all the partying, swimming or any activities they get to enjoy in Boracay.
Rooms
After greeting us with shell necklaces, welcome drinks and smiling staff, we were promptly guided to our respective rooms. The staff gave us key cards and RFID waterproof bracelets that serves as our key as well. Right off the bat, I was pleasantly surprised how big our room is. It's a two bedroom suite with living room, dining area and complete kitchenware.
The room has bright color motifs. Ours is green. The living room is really cozy. They have green colored sofa bed facing a huge TV that's perfect for group of friends who just want to chill and watch a movie. As usual, before hitting the bedroom I always check the fridge and other cabinets. Then I realized that they have complete kitchen amenities where the guest can cook their food and eat them on their own suite.
I must say the bedroom was my favorite. I have a king-sized bed all to myself and a flat screen TV facing the bed. The bed is really cushy. The duvet is not too thick,just perfect for Philippine weather, and the pillows are fluffy. The room is perfectly lit and artsy because of the Azalea stickers on the head walls of the room.
I remembered Azalea Baguio's toiletries which smell heavenly. Alas! They have same ones here in Boracay! I really enjoyed taking a bath whenever I come to my room from a hot sunny day in the beach. Plus, the bathroom is just clean looking.
Lastly, my room has a veranda. I can see both phases of the Azalea building. I think my room has the nicest view.
Service
As I always say on my hotel reviews, one reason why I love the hotel is that the staff are welcoming just like in Azalea Boracay. Every time you see a staff they'll greet you with a smile. Our 4-day stay in Azalea was mostly spent outside, trying different activities the island can offer. It is nice that whenever we come back at the hotel, the room is always clean. The housekeeping always sees to it that their guests should come home in a clean room.
On our first night, the staff left us with cookies which I really love. Different varieties of sweets were served on the succeeding nights thereafter. One more thing, I asked them to wake me up to get ready for our morning flight back to Manila and they really did. Thanks to them because I'm not a morning person.
Kuya J at Azalea Boracay
They have Kuya J Restaurant inside Azalea, it is where they cater breakfast buffet for their guests. I really enjoyed our breakfast here. There are a lot of Pinoy breakfast dishes that I really enjoy when in a breakfast buffet. They also have salad bar, fruits and bread station for the foreigners who are not fond of eating rice for breakfast.
We also had our lunch there. Every dishes on the table were really good. It was like fiesta because ofPinoy's favorite fiesta dish which is Crispy Pata. I must say their Sisig is one of the delicious Sisig I had so far.
Activities with Azalea Hotels and Residences Boracay
Aside from beautiful beach that Boracay has, there are a lot of things that the guest can enjoy on the island. Azalea Hotels and Residences Boracay also offersarranged activities for you to try on the island. They will pick you up and send you to the spots where you want to go – complete with VIP treatment and hassle-free planning. Just ask the front desk about their offered packages and tours if you're interested.
Click here for great discounted deals and bookings for Azalea Hotels and Residences Boracay
Azalea Hotels and Residences
Station 2, Boracay Island, Philippines
Phone: 0917 8611641 / 0919 9944140
Email: reservations@azalea.com.ph
Facebook: FB.com/AzaleaHotelsResidencesBoracay
Instagram: @AzaleaBoracay
No doubts, healthy diet and medicines are playing on the minds of men all around the World. People get millions prescription medicines online. If you are going to use Cialis, you perhaps want to know about http://isviagraoverthecounter.com/metronidazole-over-the-counter.html. Today, there are many options for those ones who suffer from such health problem. What do you think Cialis is? Sometimes, when humanity talk about generics, they mean Metronidazole Over the Counter. Matters, like Generic Flagyl Over the Counter, cite to sundry types of health problems. Without fail, sexual disorders can help doldrums and can leave you and your partner feeling frustrated. But only your physician can make decision if Cialis or other medication is good for you.