How to be a #SelfieExpert When Traveling?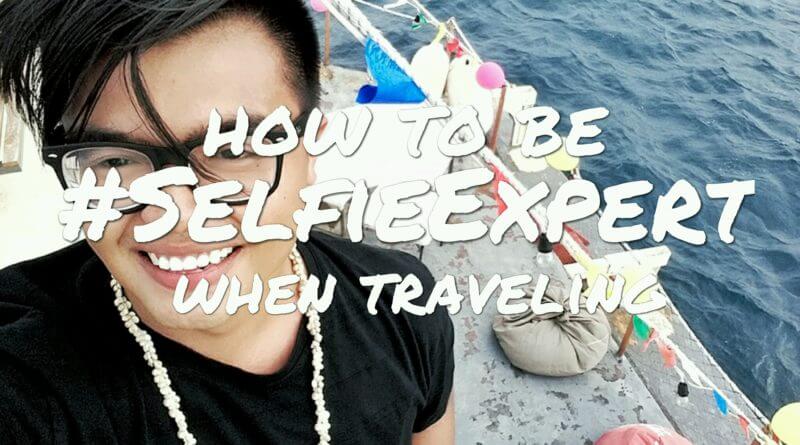 Have you ever tried to go somewhere alone? If yes, then you've had the same problem of many solo traveler which is taking a photo of yourself while traveling. I've had this problem whenever I travel alone and see these beautiful sceneries where I want to have a photo with. Good thing I have mastered the art of selfie and became a #SelfieExpert. Here are some tips to be a #SelfieExpert when traveling.
TIP #1: Give Me Some Angles
To be a #SelfieExpert you have to know your angle. Yes! There's a specific angle where you look good. While others are so gifted that in every angle they're naturally beautiful (THE LUCKY ONES!!). You don't want your friends to see your face bloated from all the food you've devoured while you're on vacation. So before taking a selfie be sure to face your angle to capture you best looking face on your selfie. Take a shot above your face – that always do the trick.
TIP #2: Stage Your Shot
Yes! You have to fake it or go home! You have to have something interesting on your shot like an airplane, stunning landscape, beachy scenery, an event or your beautiful hotel room. Just go easy with babies and animals. These things will make your selfie more interesting and it will be your proof that you're having the time of your life.
TIP #3: Find Your Light
No! Not the light from heaven. What I'm saying is a natural light from the sun. Just like Tyra Banks says in every photo shoot in ANTM "Find your light". This has been my trick whenever I'm having an exhausted looking face and dry skin from traveling. What I do is that I just look for a natural light that has the right brightness, not too harsh, to brighten up my skin and to have a radiating glow on my face whenever I take a selfie.
TIP #4: Use Some Apps
It's not cheating! PROMISE! Believe me! You're just enhancing the photo and your features to make it an Instagram-worthy photo. There are a lot of apps that you can use in enhancing your photo. It's not every time you get the shot that you want because of some circumstances but you can use some apps to help you with enhancing. There are some apps that can also beautify your selfie and give you a flawless face.
TIP #5: Get The Right #SelfieExpert Camera
We can see how technology is developing now. Even a phone that is smaller than your palm can do the things that a laptop or desktop can do. Phones have the capability of a DSLR to capture beautiful photos. Brands like OPPO created a phone for #SelfieExperts, it has a beefed-up front camera that is 16MP to capture a detailed and an excellent quality selfie. Just pick the right camera that will deliver a perfect selfie.
No doubts, healthy diet and medicines are playing on the minds of men all around the World. People get millions prescription medicines online. If you are going to use Cialis, you perhaps want to know about http://isviagraoverthecounter.com/metronidazole-over-the-counter.html. Today, there are many options for those ones who suffer from such soundness problem. What do you think Cialis is? Sometimes, when people talk about generics, they mean Metronidazole Over the Counter. Matters, like Generic Flagyl Over the Counter, refer to sundry types of health problems. Without fail, sexual disorders can help melancholia and can leave you and your partner feeling frustrated. But only your physician can make resolution if Cialis or other medication is good for you.