Ito naaaa! Finally I've reached Mindanao! After a long wait since I've booked the plane ticket (which is like 7 months before the scheduled flight) to visit Davao. This city is the farthest city in the Philippines I've ever stepped on so I was like an excited-giddy kid before and after the flight. Davao has the 4th highest population in the Philippines, and it has the largest city area in our country (and in the world DAW).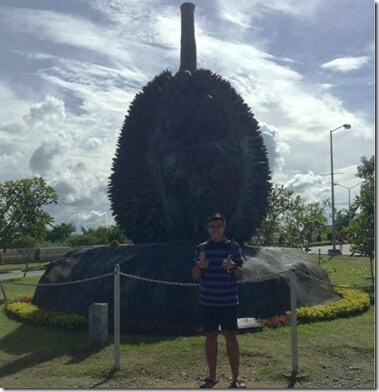 I love the feeling when you stepped on a place for the first time, the feeling of ignorance and excitement on your own land. That's what I felt when I got off the plane and while we're looking for a cab that will send us to downtown. I don't know what to expect when we got there, what I got in mind is to climb Mt. Apo. hihi! Other than that, "bahala na si batman!"
Davao's transportation is well organized all roads are one way (downtown). Which makes the traffic flow easier. You can always ask the people around you where to find what and the direction to that place. They're approachable don't worry, all smiles, they also gave us tips when going there.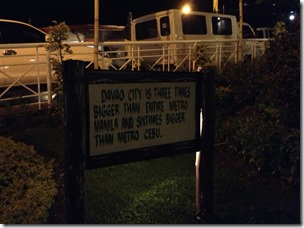 Smokers out there. If you're a smoker you might want to control it when you're in Davao because you might penalized from it. First violation, you'll have to visit a counseling session and pay 500 pesos as penalty before giving the citation back to the arresting police officer. The penalty for subsequent violators ranges from 1,000 pesos to 5,000 pesos. Different establishments there has a signage that says "This is a smoke free area".
Good thing I'm with a group who's experienced in backpacking so we came up with this IT impromptu.
Day 1:
Arrival at Davao International Airport
Hotel hunt: GV Hotel (bleh!)
Jack's Ridge
Day 2:
Hotel Hunt: Manor Hotel (FTW!)
Davao River Rafting
Deca Wakeboard experience
Penong's delicious chicken!
Day 3:
SM Ecoland grocery
Ecoland Terminal
Off to Digos City
Day 4:
Habal Habal ride experience
Mt. Apo climb
Goody Goody camp
Day 5:
Conquered Mt. Apo summit
Descended at Mt. Apo
Day 6:
Go back to Davao City
Rest rest din
Day 7:
Samal Island (Paradise Resort)
Day 8:
Off to Luzon – Clark – Cavite
Home sweet home!
This is the summary of my Davao trip! Kulang ang 8 days stay ko dun. I got homesick it was the longest trip I've had away from my family. Pero I promise to go back there and enjoy other sceneries and tourist spots on Davao hopefully I can stop by Gen San and Zamboanga also.