Book your Saigon City Half Day Tour in Klook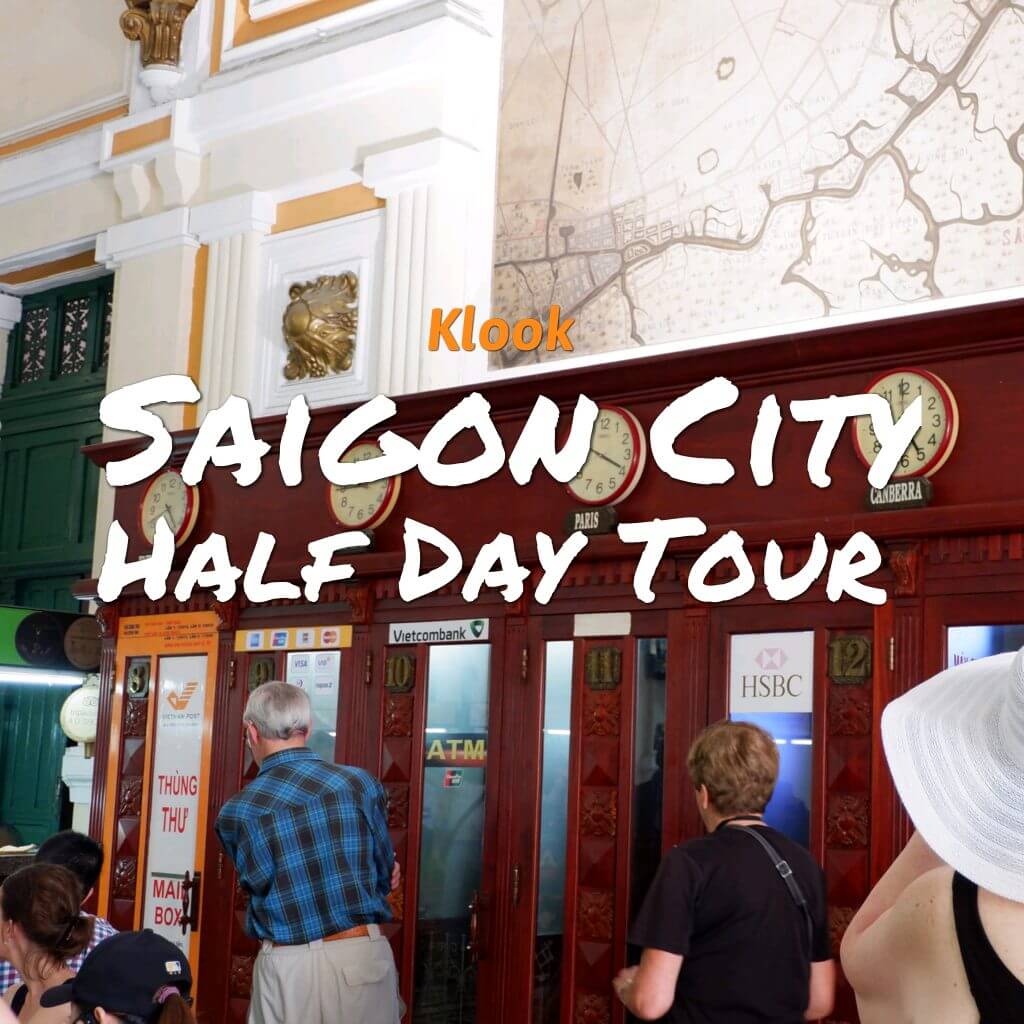 After exploring different tourist spots outside Ho Ch Minh City, we then decided to explore different spots within the city of Ho Chi Minh. Women in traditional hats selling snacks on the sidewalk and super busy road swarming with scooters – those were one of the many charming characters that Saigon has for many tourists. Better explore what the city has to offer to know the culture and deeply learn the roots of what the country is today. We booked a Saigon Half Day Tour in Klook, read more below!
Saigon City Half Day Tour
Saigon City Tour is a 4 hour tour with an English speaking guide that Klook is offering to tourist who wants to soak in the atmosphere of the city. We explored the city and some key attractions and learned about Saigon's rich historical heritage. A bus drove us from our hotel to War Remnants Museum, Reunification Palace and Saigon Post Office.
War Remnants Museum
The Ware Remnants Museum is a memory lane of the wars in which Vietnam was involved in the recent past. On display in this museum are photographs, memorabilia and vehicles of ware like tanks and other aircraft. This museum holds different depressing things like Agent Orange which is infamous in Vietnam.

Reunification Palace
Reunification Palace is the most visited sights in Ho Chi Minh City. It is also known as the Independence Palace. They hold events and government meetings in the palace even though it is open for the public and tourists to visit. It is the place where they decided to end the Vietnam ware, hence the name Reunification Palace.

Saigon Post Office
The Saigon Post Office or Central Post Office is located just across the Notre-Dame Cathedral. The building was kept its original French Colonial design like many other building in the city. It was designed by Gustave Eiffel, the same person who designed the Eiffel Tower in Paris. BONGGA! The Central Post Office is now one of many key attractions in the city.

Notre-Dame Cathedral
We haven't had a chance to go inside the cathedral because it is currently renovating. Notre-Dame Cathedral of Saigon is located at the center of Ho Chi Minh City. It was built in 1883. It is said that the cathedral was built near the Saigon River because most of the materials used to build the cathedral was imported from France. It was officially declared as a Basilica by the Pope last 1962 and since then it has been named 'Saigon Notre-Dame Cathedral Basilica'.

It is one of the great deals you can find in Klook, they are offering it for 507 pesos only! If you like to visit these places without hassle and worrying the transportation from one place to another, I would suggest that you book this activity. Plus, they have English-speaking guide that will help you understand the history behind every spot.

Get a discount if you
use my INVITE
! Watch my vlog about our Mekong Delta trip and Cu Chi Tunnel exploration!