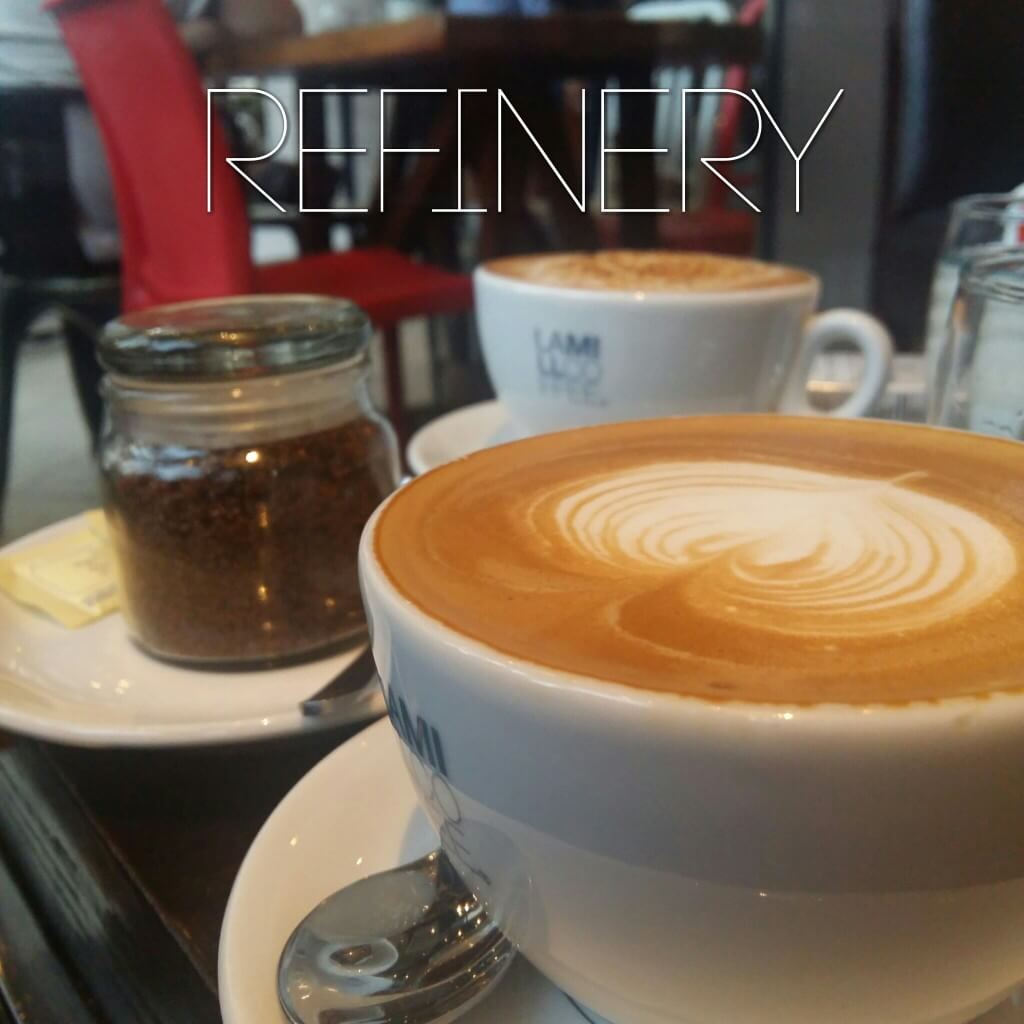 I don't know if Refinery is a café, or a bar; maybe a coffee bar? Yes? Either way, it is a cool hangout place for those who want to talk over a coffee while eating pasta or sandwich. And if you like to drink vodka or cocktail in mid-afternoon, Refinery at Rockwell is the place to be. They offer different concoctions, wine, cocktails and coffee.
Refinery is located at Rockwell, Makati; just a walk away from Rambla and Wooden Fire. You'll see a coffee bar in the far end of the street with a large windows that shows off its rustic look and wooden interior. Very jazzy and cozy ambiance!
Refinery offers artisanal coffee from US-based Lamill Coffee bean. They have cocktails, wine and other concoctions if you feel like celebrating or drink all your sorrows and solitude away. If you like to pig out, enjoy their all-day brunch menu, salad and breakfast from 7AM to 10:30AM only.
I must say, Refinery is really for Pinoy coffee connoisseurs because they take its coffee seriously. You can choose how you want them brew your coffee. They have Chemex, Syphon and Sowden. Pretty fancy?! Maybe I can appreciate the different brewing process of it sometime but not now! Don't complicate my obsession with coffee.
It was dusk when we visited Refinery. While waiting for the orders I enjoyed drinking coffee and crack some jokes with my friends. My friend let me tried Black Velvet and Mocha Java. I forgot which has the lighter taste. But still I enjoyed both! I really love gossiping over a cup of coffee while smoking.
It has this chocolatey and nutty taste with the hint of caramel. I love it!
I ordered the Hangover Pasta, the one with the egg, and I requested to spice up the flavor. And they did it perfectly! BACON!!!
I finished my meal with this really good Iced Coffee! Imagine 18 effin' hours!!!!
Here are Refinery's other meals that my friends ordered.
I really enjoyed their coffee and food here! It's a treat for coffee addicts out there. The location is really perfect for those who just want to hangout within the metro but still has this cozy ambiance. Price-wise, their brunch meals are really affordable for the amount of serving and their taste. The artisanal coffee prices are reasonable! Hey, they have their own mixologist to make your drinks extra special. I would bring my other friends here, I'm pretty sure they'll love this place.
Check them out in OpenSnap. It is the fastest way to browse best eats in the metro.
Refinery
Address: G/F of Joya Loft and Towers, Joya Drive, Rockwell, Makati
Phone: 632-781-0344
Opens from 7AM to 12MN
Instagram: @_refinery
Facebook: RefineryPH
For centuries patients have tried sundry herbal supplements for ED – the repeated inability to get an erection firm enough for sexual intercourse. One recent study found that ED affects 140 million men worldwide. If you're concerned about erectile problem, you have to study about how much does levitra cost. Is it possible to prevent ED? Occasionally folk are watching for remedies to resolve sexual health problem. When you buy medicaments like Cialis you have to ask your dispenser about levitra cost per pill. Several companies describe it as levitra prices. However, you must check with your physician to see whether one of these remedies is a suitable choice for you. Additionally most side effects vary depending on the patient's diseaseage and other factors.