Perfect One-Week Itineraries for Southeast Asia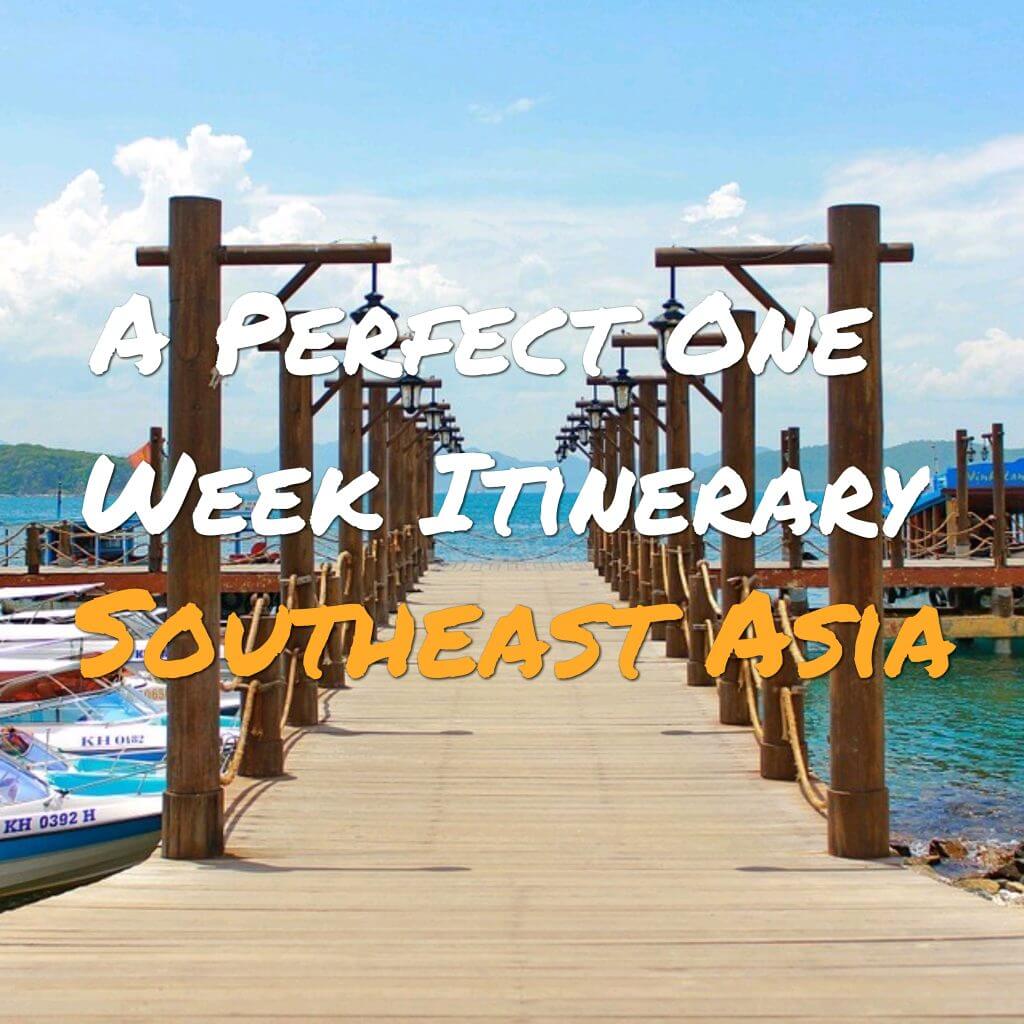 The Almighty has blessed the Southeast Asia with a lot of beauty. All the Southeast Asian countries are flooded with picturesque views. There are several man-made wonders that make you think about the modern advancements in science and technology as well as there are several naturally beautiful places that make you praise the wonders of Mother Nature.
So, if you are planning a trip to Southeast Asia, we tell you the perfect one-week itineraries. All you need is a week to explore the beautiful places. Let's read more about the itineraries in detail:
Cambodia
Phnom Penh + Sihanoukville + Koh Rong
Phanom Penh is one of the most beautiful places in Cambodia. The place has beautiful markets where you can shop till you drop. You can visit the Royal Palace and the National Museum of Cambodia. Psar Thmei, one of the largest domes in the world is also a must visit.
You can head to Sihanoukville to explore the most beautiful beaches. You can enjoy activities like kayaking, snorkelling, jetski, et al.
From Sihanoukville, you can take a boat to Koh Rong. There are about 23 white sand beaches in Koh Rong where you can enjoy snorkelling as well as diving.
Thailand
Chiang Mai + Chiang Rai
Chiang Mai has any famous religious places where you can visit. The Doi Suthep and the Wat Chedi Luang are beautiful sacred places in Chiang Mai. In November, this place hosts Yi Peng festival where paper lanterns are launched. This is done because it is believed that it blesses the locals.
From Chiang Mai, you can take a bus and reach Chiang Rai in three hours. There are beautiful Buddhist temples adorned with gorgeous carvings and murals. The Chiang Rai Night Bazaar is a must visit.
Laos
Luang Prabang + Vientiane
Luang Prabang's old town is a UNESCO World Heritage Site. That is the first place where you should visit. Pak Ou Caves, Kuang Si Falls and Tat Sae Falls are the naturally beautiful paces. You must not miss the beauty of sunset from Mount Phou Si. The sun sets over Mekong River and it is a visual treat.
Vientiane also has many beautiful places to visit like the Pha That Luang which is a Buddhist stupa. The Patuxai war monument is also a must visit.
Myanmar
Yangon + Inle Lake
Yangon is the former capital of Myanmar and also the largest city. Shwedagon and Sule are the two most famous pagodas that are very popular among the tourists. You can enjoy delicious local cuisines.
To explore the rustic culture, you can take a train to the beautiful Inle Lake. There are beautiful stupas, monasteries and pagodas to visit. You can also admire the rich art here.
Malaysia
Malacca + Ipoh + Penang
Malacca is a UNESCO World Heritage Site. You can visit the Jonker Street Night Market. The oldest Protestant Church, Christ Church is a must visit.
You can enjoy adventure sports like white water rafting at Gopeng's Kampar River. Also, you can enjoy a visit at Kek Lok Tong Cave Temple. From there you can head to Georgetown, which is a UNESCO World Heritage Site and capital of Penang. There are beautiful churches dating back to 19th century. There are also several mosques, temples as well as colonial building from 19th century. The Penang Butterfly Farm is also a must visit.
Indonesia
Mount Merapi + Yogyakarta + Borobudur
On the border between Central Java and Yogyakarta, there is Merapi Volcano which is an active volcano that has been regularly erupting since 1548. Also, visit Taman Sari (the Water Castle). Take an hour's drive to Borobudur which is a UNESCO World Heritage Site and the largest Buddhist archaeological site.
Philippines
Palawan + Puerto Princesa
Enjoy diving at Palawan. Explore the sunken warship of Japan off the Coron Island. Head to the Puerto Princesa Subterranean River National Park and explore the world's longest underground river.
Vietnam
Ho Chi Minh City + Mekong Delta
Ho Chi Minh City is the largest city in Vietnam. Visit the War Remnants Museum. Also, visit the Cu Chi Tunnels and Reunification Palace. Admire the architecture at Central Post Office. Enjoy the bird's eye view of Saigon from EON 51 Heli Bar. You may need to read more in details before planning a trip to such about best Vietnam Travel
Visit the Mekong Delta and enjoy fresh fruits on floating markets.