Disadvantages Of Traveling Young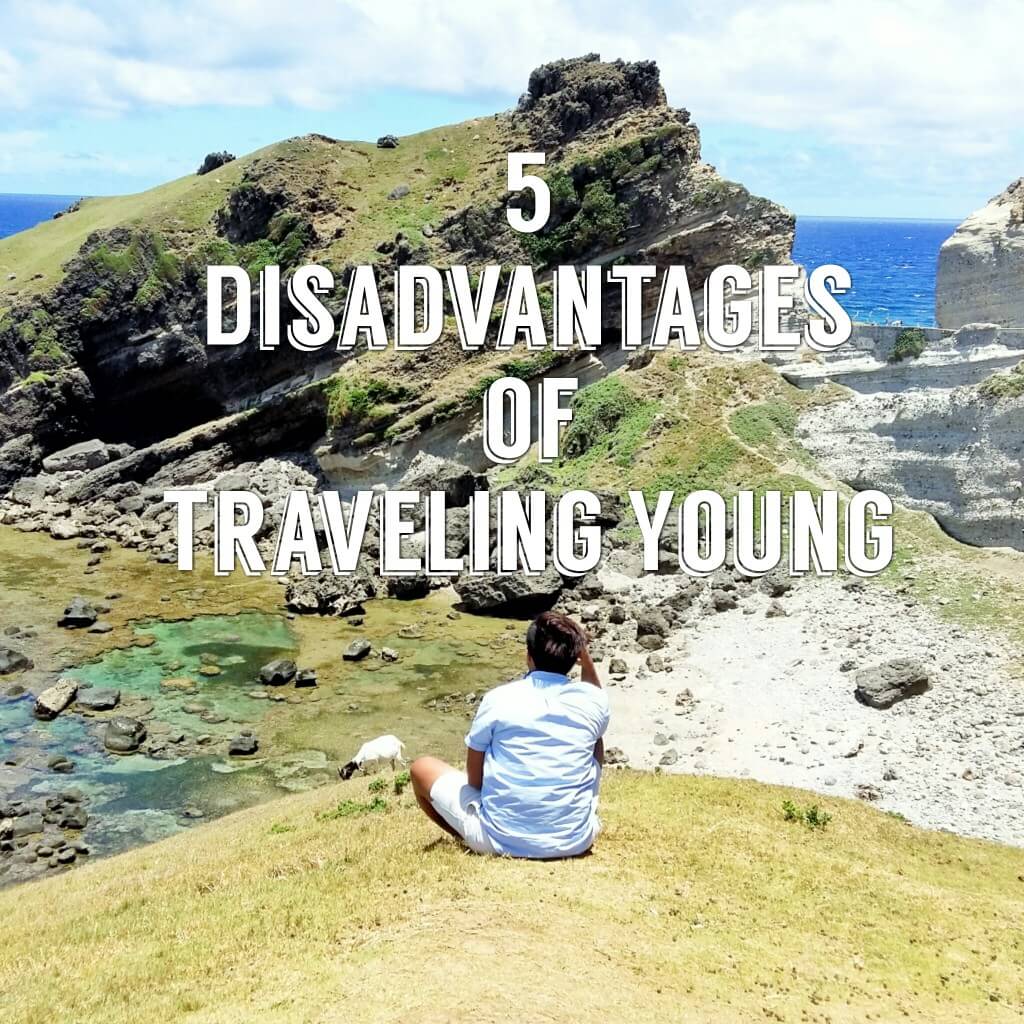 Who wouldn't want to travel? Even at a young age, one craves to explore and wander to different places. A student for example, may it be in college or highschool, I know someone out there is desiring for something awesome like traveling. It is about learning different culture, exploring what the world offers and getting the education that your own school can't teach you. But traveling is not easy like A, B, C you need to have the will and be able. Here are the reasons why traveling young has its disadvantage.
"IF NOT NOW, WHEN?"

#1 Money, money, money
Yes money! I know everyone thinks about the money they'll spend first before thinking of traveling. Even people with work are struggling to fund their travels because of their own bills. Hey, what more for the students who are still dependent on their parent's money for allowance. Sometimes, they only get exact money for the week for their food, daily transportation and school stuff. Some says they're still a student so they just have to study, ace their quizzes and attend school every day. On behalf of the students that I'm talking about, I am sorry, they have bitten by the travel bug that they want to explore and visit different places.
SOLUTION: MYMP! Make your mama proud! Do your school requirements and prove to your parents that traveling won't affect your academics. They might fund your travels too. Show them that traveling is fun so that they'll crave for it too. I must traveling is one of the best family bonding. PLUS your parents will shoulder all the expenses and you get to enjoy with your family while traveling.
#2 Not again! I didn't anticipated this.
Book now and worry later! But for a student who has a really unpredictable schedule, this advice is impossible. There's this one time where I booked a solo trip to Boracay just to relax, enjoy the island and just have an alone time there, but something came up. I have a school obligation that I have to attend to on the booked dates of the trip. Prioritize, I just have to cancel the trip and just reschedule it. It's really hard to plan a trip especially if you plan months before it because something might came up that will ruin your plan.
SOLUTION: You just have to think about your priorities. In the end of the day, your education should be first. One thing I do, I always book a cheap flight going somewhere, and if the dates conflicted my school obligations then I cancel the trip. A 200PHP ($5) worth of ticket won't hurt you especially if something really important is on the line. Prioritize and you'll find your ways.
#3 I can do it mom!
Parents! Yes, they have the right to worry because that's just what parents do. You'll be out there wandering and exploring places where you're not familiar and a trip without their supervision. Sometimes parents will hinder you from traveling because of the weather, culture, current problems on that place, diseases or sometime they are just simply worried about you going somewhere far from them. But you just have to understand them because they love you. I experienced this when I started traveling, my friends and I climb a mountain and my parents don't want me to go because they are worried that I might get a malaria and put myself in a dangerous situation while I'm in the mountain.
SOLUTION: Prove them that you'll be safe on your trip, tell them your plan, give those facts like weather report and safeguard their trust that you'll be careful on your trip. Update them every time so they'll know that you're OK and be comfortable with you, traveling.
#4 Gullible, naive and ignorant
Come to think of it, young boy traveling alone in other country. They are easy to manipulate and be fooled. You can't take away this instances of meeting bad people along the way, especially if you're still young because that's an easy target. Young travelers are also ignorant to almost everything. There's this one time when I decided to walk around Seoul when we (school mates) visited there for our school trip, which almost led to almost scary experience. Considering it is my first overseas travel. I want to visit this restaurant, thanks to google I got to visit the place but as I was tracking my way back to our hotel, I got lost. So what I did is that I hire a taxi then I showed the address to the driver then he started talking to me in Korean. I got scared so I got off the taxi then he shouted at me. I don't know if he's just explaining something or he got mad when I left him. Good thing, one driver helped me to get back to my hotel.
SOLUTION: You don't know much about the place so do your research. There are a lot of blog that you can read to help you on your trip. Through this you are well aware of everything.
#5 Travel Thirst
I've read an article about 'Travel Thirst', this word is applicable to young travelers who has this high drive to travel. It is not a bad thing though, but if it's too much one can lost its way in the process of getting lost. If you have this great desire to travel and go to different places, you might baffled yourself on your own priorities. I mean, yes traveling is AWESOME, but still you have to work for a living and fund your travels for those people who are already working. For young travelers that are still studying, you might neglect your school obligation which results to disappointments from you family.
SOLUTION: No one's restricting you from doing two or more things at the same time. You can work or study while you travel. You just have to balance things and prioritize.
There's a lot of amazing things that you can learn in traveling. This post is just a list of those small disadvantages that I encountered while traveling. Young travelers out there, what is the downside in traveling young?
For centuries patients have tried sundry herbal supplements for ED – the repeated disability to get an erection firm enough for sexual intercourse. One recent study found that ED affects 140 million men worldwide. If you're concerned about erectile problem, you have to study about how much does levitra cost. Is it possible to prevent ED? Occasionally people are watching for remedies to resolution sexual heartiness problem. When you buy medicaments like Cialis you should ask your pharmacist about levitra cost per pill. Several companies describe it as levitra prices. However, you should check with your doctor to see whether one of these remedies is a suitable choice for you. Additionally most side effects vary depending on the patient's diseaseage and other factors.