Review: iBattz Mojo Vogue Battstation
I'm always dependent on my gadgets like my mobile phone for communication and also the internet to update my social media accounts, check my mails and even use the map whenever I travel. I can't sit on a long ride without music or anything to entertain myself that's why my gadgets' battery are always drain. iBattz Vogue BattStation saves me from the desperation of looking an outlet to charge my gadgets.
The iBattz Vogue BattStation 5600 USB powerbank is perfect for those gadget savvy person with on-the-go lifestyles. You can recharge your smartphone, tablet and mobile wifi while on the road. Don't worry it supports many device like iPhone, IPod, Android phone, and any device that is using USB charging.
What I love in this iBattz Vogue BattStation 5600mAh are:
It offers portability of charging your gadgets anytime anywhere.
It has a High Capacity Advanced Samsung 5600mAh battery cell to ensure safety.
A built in White LED light that you can as a flashlight.
It looks sleek and compact
It comes with a pouch that is perfect for traveling
What's in the box:
Vogue BattStattion USB Portable Charger
One USB to micro USB cable
Apple 30 pin and Samsung Galaxy Tab adapter
Travel pouch
User Guide
A little just so you know:
If you're one of those people who don't read the user guides. Here's how to read the LED Battery Capacity indicator. You have to push the side POWER button to check the battery capacity. The LED will be lighted for like 3 seconds. If the light is:
RED Light: 0- 33% battery capacity left
GREEN Light: 34 – 66% battery capacity left
BLUE Light: 67 – 100% battery capacity left
Here's how to turn on the flashlight, just push the side POWER button twice and thrice to turn it off.
SRP: P2,150.00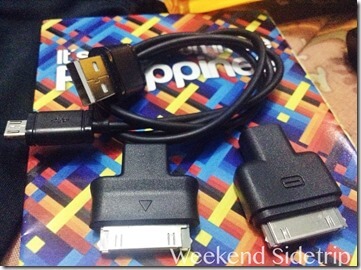 Power Specification
Input: 5V DC, 1A (max)
Output: 5V DC, 1A
Battery Capacity: 5600 mAh
Battery Life Cycle: 500
Colors: Matt Black, Gloss White, and Gloss Red