Get organized while traveling with Sea To Summit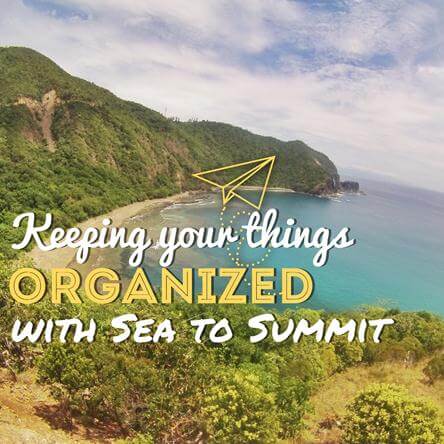 I really love travelling because I get to explore different places, witness different culture and meet new people. What's not to love in travelling right? But in travelling there are things that you have to consider. You have to get rid of the unnecessary that aren't that important on that trip, but I usually overpack whenever I travel. I can't help bringing extra things on my trip, say for example I have to bring 4 shirt, I would prolly bring 5 or 6 shirt. Blame it on my spontaneity! There might be an impulsive sidetrip within that trip so might as well bring an extra, right? My biggest is that I tend to be messy with my things. Good thing, Sea to Summit products help me to get organized.


Tek Towel ™ Wash Kit

The Tek Towel ™ Wash Kit is a great package for staying fresh while traveling. The kit includes a towel for all over drying and a washcloth when you just need a freshen up, plus a 1.3 oz Wilderness Wash soap concentrate. Both towels are made from our super absorbent and quick drying Tek Towel™ fabric.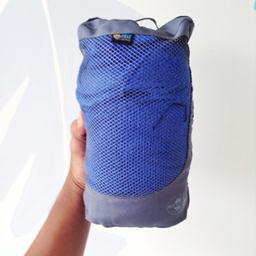 -Kit includes a main towel, a 12 in x 12 in wash cloth and Wilderness Wash soap concentrate
-Wilderness Wash works as a body wash, shampoo, dish or clothes detergent
-Both towel and wash cloth are made of our most absorbent towel fabric
-Snap-on hang loop and rounded corners
-Packaged in an oval shape zippered mesh pouch
-Remarkably absorbent yet fast drying
-Machine washable
What I love: I brought these towels when I visited La Union and Vigan for a beach trip. It's really super absorbent; even if the towel is still damp you'll still end up dry after using it. I used the small towel for my face and the bigger one for my whole body. One thing I like with this towel is its material it's really soft. One time, I used it as a blanket when I was on a bus, it was so cold good thing the towel is pretty thick to keep me warm. It comes with a Wilderness Wash that cleans your body and also the towel, and also a zippered pouch. How's that for all-in hygienic purposes?!

Travelling Light™ HANGING TOILETRY BAGS
The Sea to Summit Travelling Light Hanging Toiletry Bag could be the world's lightest hanging kit while offering the option for you to pack all the toiletries you need.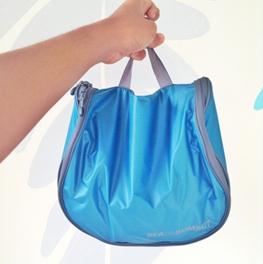 –Multiple internal pockets for convenient organization
-Hanging design for easy use
-Internal mesh pockets provide content visibility
-Durable YKK™ zips with Hypalon™ grab tags for easy, secure opening and closing
-Super-light, strong and water-resistant Ultra-Sil™ fabric made with Cordura® yarn
What I love: Lemme just say that I really love this Hanging Toiletry Bag! I use this every time I travel, even if I'm just staying somewhere for a night. I can put my toiletries, medicines and my contact lens kit on it. Everything that I need for hygienic purposes and vanity kit (Disclaimer: not that I'm vain) are all here. You can hang this bag; it's easy to use when you're on shower. Plus, the mirror It has a mirror inside. It's so funny because it's unusual for bag but the mirror is really useful.

Travelling Light™ Laundry Bag
The Sea to Summit Travelling Light Laundry Bag is a lightweight and stylish solution to luggage organization. This convenient portable laundry bag keeps dirty laundry separate from clean clothes.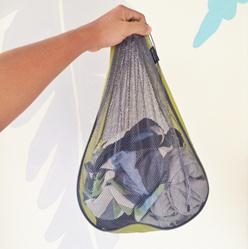 -Keep dirty laundry separate from clean clothes
-Mesh front and back panels for breathability
-Easy to use double drawstring closure with Hypalon™ grab tags
-Super-light, strong and water-resistant Ultra-Sil™ fabric made with Cordura® yarn
-Packs flat for storage
-Grey mesh with assorted trim colors: Lime, Berry, Blue, Black
What I love: One of my problem whenever I travel is how I separate the clean clothes from the dirty ones in one bag. It's a dilemma every time I'm on the road for a couple of days . I always use plastic (yes! Sorry Mother Earth). Good thing, I have Travelling Light Laundry Bag with me during my recent trips. It keeps the garments fresher because of its breathable mesh . It can hold 3-5 days of clothes which really perfect for those bakasyonistas out there.
Stopper Dry Bag
These fully welded dry bags are made with 210D nylon fabric with TPU lamination on the outer face for durability, water shedding, and abrasion resistance. The clean profile and oval base resists rolling and allows for easy packing. The high strength fabric is UV resistant and won't crack in extreme cold.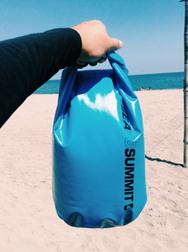 -210D nylon fabric with TPU laminate
-Durable & smooth water shedding exterior
-Waterproof TPU roll top closure does not wick moisture
-All welded construction for permanently sealed seams
-Features the patent pending Field Replacement Buckle with stainless steel pins
-Available in Blue, Lime, and Yellow
What I love: I recently got addicted on beaches (Ehem! one with water and sand). Good thing, I have my Stopper Dry Bag that keeps my stuff dry and sand-free. I have the 5L Stopper Dry Bag. I can store my camera, sunglasses, mobile phone and sunblock on it.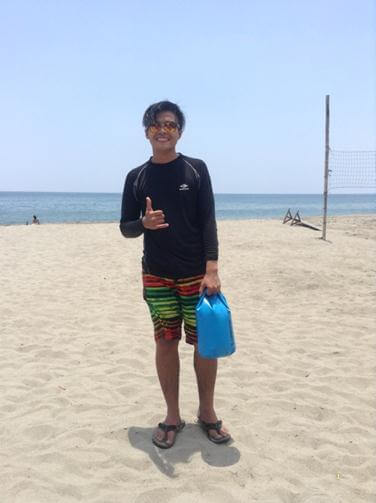 Like Sea to Summit FB page
Follow their twitter and Intagram accounts.

You can visit R.O.X, Travel Club and Eddie Bauer for Sea To Summit Products.