Travel Guide: Budget trip to Real, Quezon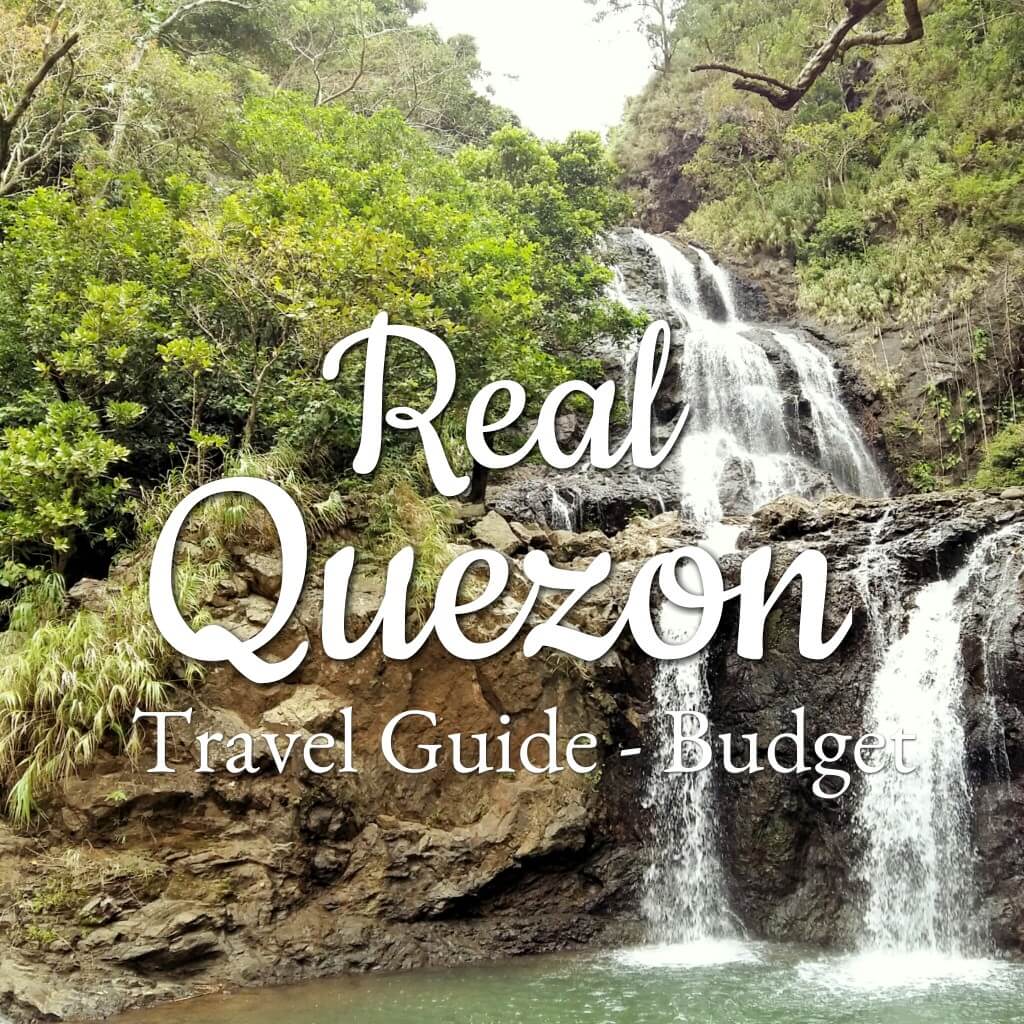 Real, Quezon has the shortest route from Metro Manila to the Pacific Ocean. Real doesn't have powdery white sands but it has everything that you'd like in for a vacation spot. It has rich-green forest, stunning waterfalls, fast raging river ideal for water rafting and a remarkable swell of the Pacific that other surf spots in Luzon don't have. You might want to consider forgetting about diet when visiting Real, because you'll be off to a devouring seafood feast in this town. Here's your travel guide for a budget trip to Real, Quezon.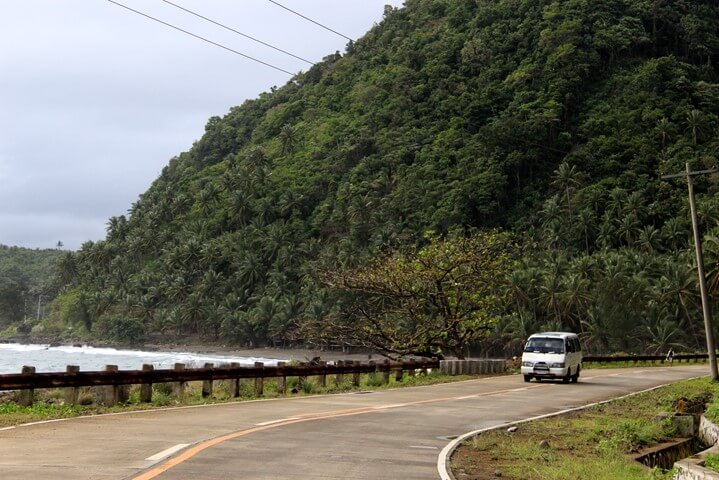 How to get there?
Antipolo Route
Take a Raymond bus located in Legarda, Manila going to Infanta. Just ask the conductor to drop you in Real, Quezon. The fare is around PHP 200++. The bus ride will take about 5-6 hours from Manila to Real.
Lucena Route
For those who are coming from the south. You can take a bus in Grand Terminal in Lucena for PHP 150++ and it will take you 4-5 hours from Lucena to Real.
Just ask Waze or Google Map if you're planning to use your own car in visiting the place.
Where to stay?
There are a lot of resorts in this place. The newest and talk of the town resort is the Real Surf PH, because of the video that went viral in Facebook. But a lot of locals say that the place is really pricey. If on a budgeted trip, the most recommendable and ideal place to stay is The PaRK or Pacific Recreational Kamp. I highly suggest that you go camping!
Bring your own tent gears to get an even cheaper rate. The resort has cottages and a house where you can rent if you're coming in a group. They have very basic restroom and shower areas.
Entrance Fee
AdultKid
35 per day – 50 per night20 per day – 35 per night
Huts Rental
Nipa Huts (10 pax)Nipa Huts (20pax)
400 per day – 700 per night700 per day – 1000 per night
Tent Pitching
SmallMediumLarge
50 per night100 per night

150 per night

Tent Rentals
Dome tentDome tent with flysheet
300 per night500 per night
Activities
Surfboard rentalSurfboard rental with instructorPaddle Board

Body Board

River Rafting

200 per hour – 500 per day

500 per hour

300 per hour

150 per hour

300 per person
Things to do in Real Quezon
Waterfalls trip – There are 3 major waterfalls to visit in Real; the Nonok Falls, Balagbag falls and Cawayan Falls. I opted to visit Balagbag and Nonok Falls since they're just a 10-minute drive from The Park and only kilometers away from each other. They are both easy to reach. It will only take a 7-minute trek from the road to reach Nonok Falls while 3 minutes for Balagbag.
Balagbag Falls is a two-tiered waterfalls. The lower tier (20 ft high), is a good diving spot in the area for its catch basin is really deep. Although the upper tier is taller by 80 ft than the lower tier, its catch basin is shallow.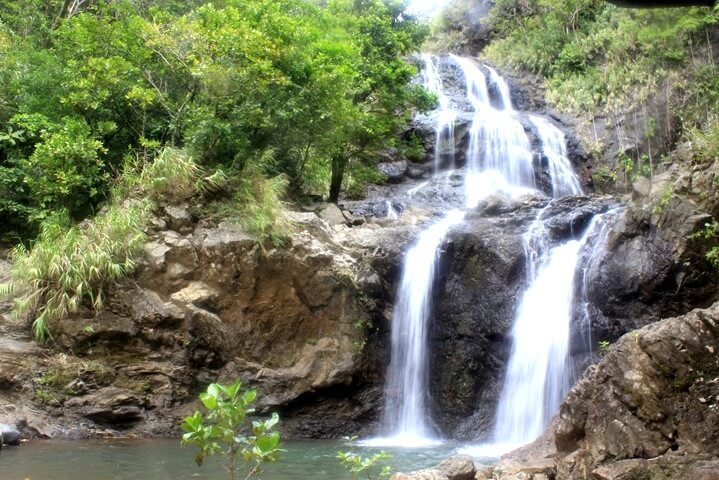 Nonok Falls is the go-to place of many during the hot season because its water is very cold due to the waterfall's shady location. The waterfalls is covered with tree shades that made its water really cold unlike Balagbag Falls.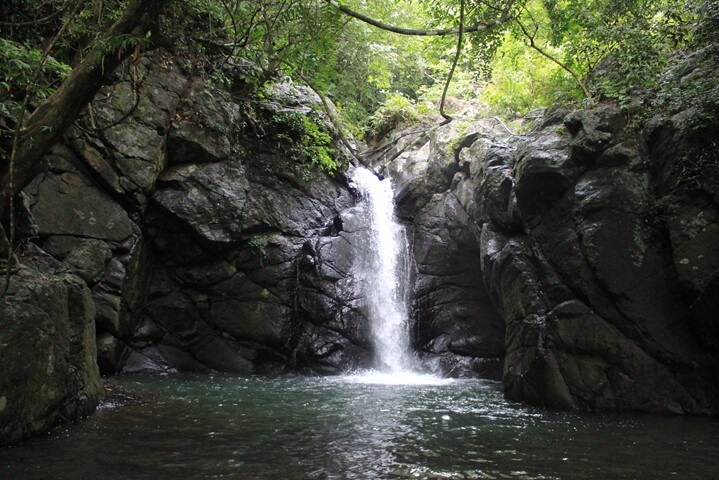 '
Water Rafting – This activity in Real is seasonal. Good thing, it was raining when we visited the place so the current was strong and we were able to go water rafting. Locals said that the perfect time to go water rafting there is during September to December.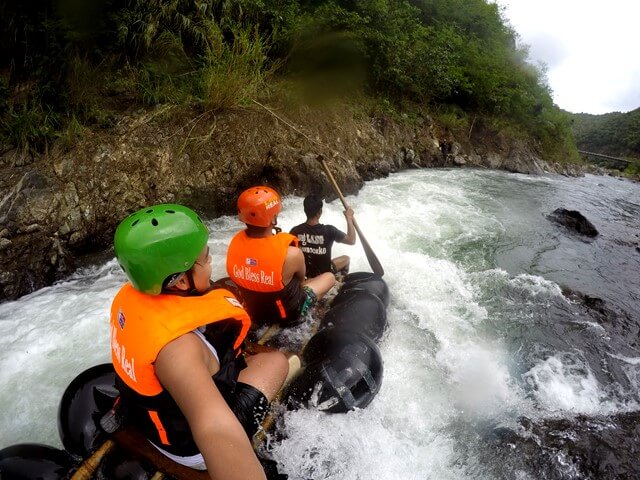 Surf-up with Pacific Ocean swell in Real, Quezon. Real is the nearest surfing spot from Metro Manila. It's not as popular as others but Real has a good swell where you can surf.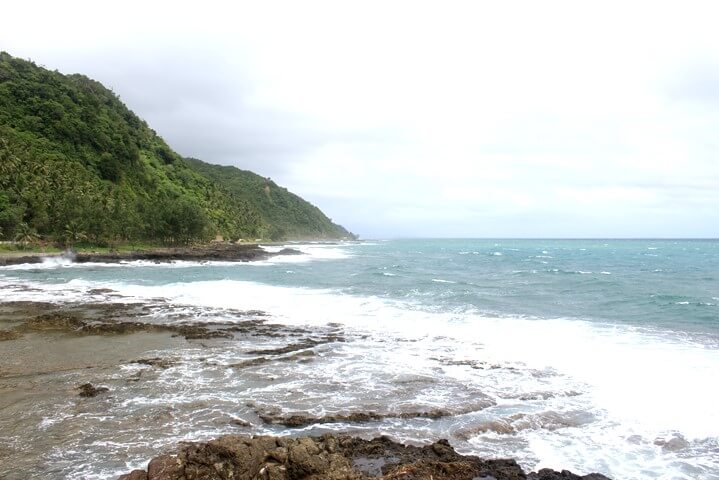 What to Eat?
There are no fancy restaurants in Real, but the place is rich with seafood that are all available in a wet market along the main road near The PaRK. After breakfast or anytime before going on your waterfalls trip or water rafting, visit the market for your lunch and dinner and request the sari-sari store located at the entrance of The PaRK to cook your desired dishes for your purchased seafoods. We had grilled Tambakol for lunch and Bangus for dinner. Expect the fishes to be fresh because they came straight out from the seawater. Forget about diet when you're here!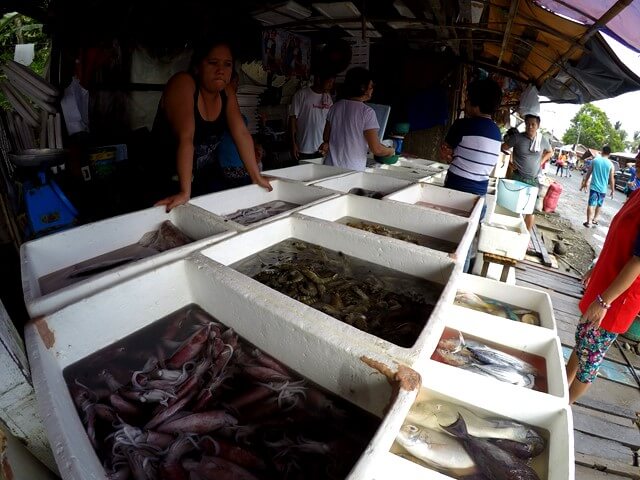 Travel Tips:
I would suggest that you check the weather in Real before setting your trip there.
The PaRK contact number is +639209246102 and email them at pacificrecreationkamp@gmail.com
The signal reception for Globe is really low, there's no 4G. I don't know for Smart and other network.
Real is perfect for weekend getaway because the spots are just minutes away from the other.
Text Kuya Danny to assist you on your waterfalls trip and water rafting (09103326793).
Bring your own camping gear.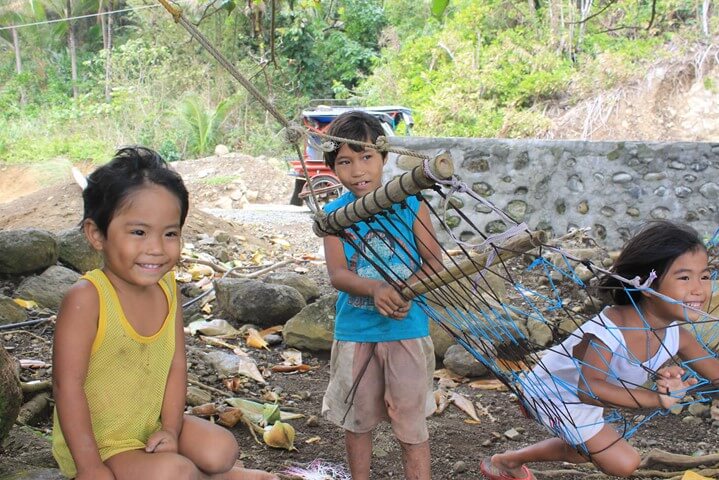 Here's the budget breakdown for an overnight trip to Real Quezon with waterfalls trip, water rafting and surfing.
Bus from Manila to Real Quezon
PHP 200
Breakfast
PHP 70
Fish for Lunch and Dinner
PHP 250 (for two)
Cooking fee with rice
PHP 200 (for two)
Kuya Danny transpo and guide fee
PHP 350 (for two)
Entrance to Balagbag Falls
PHP 20
Entrance to Nonok Falls
PHP 20
Water Rafting
PHP 300
The PaRK entrance fee
PHP 50
The PaRK tent pitching
PHP 50 (for two)
Surfing with instructor for 1 hour
PHP 500
Bus from Real to Manila
PHP 200
TOTAL: 1,785
Real, Quezon is perfect for those people who want to go out and take an adventure over the weekend. With a safe pocket money of PHP 2000, you can already experience waterfalls tripping, water rafting and surfing in this coastal town. Plan your trip now to Real, Quezon! When do you plan to go here?
For centuries patients have tried sundry herbal supplements for ED – the repeated failure to get an hard-on firm enough for sexual intercourse. One recent study found that ED affects 140 million men worldwide. If you're concerned about erectile problem, you have to study about how much does levitra cost. Is it possible to prevent ED? Occasionally men are looking for remedies to resolve sexual heartiness problem. When you buy medicaments like Cialis you must ask your dispenser about levitra cost per pill. Several companies describe it as levitra prices. However, you must check with your doctor to see whether one of these remedies is a suitable choice for you. Additionally most side effects vary depending on the patient's diseaseage and other factors.