Airbnb Top Accommodation Picks in the Philippines
2016 is a great year to explore the world. One of the next great destinations is the gem of Asia: the Philippines. US-based cable TV network Travel Channel, named the country as one of "the coolest passport stamps [to have for] in 2016".
The archipelago is more than its natural destinations, colorful town feasts and gastronomic delights. There is an almost endless selection of accommodations — from high-rise condominiums in metropolitan areas to nipa huts in secluded islands.
Here is a list of the top 10 Airbnb vacation rentals and short-term rentals in the Philippines.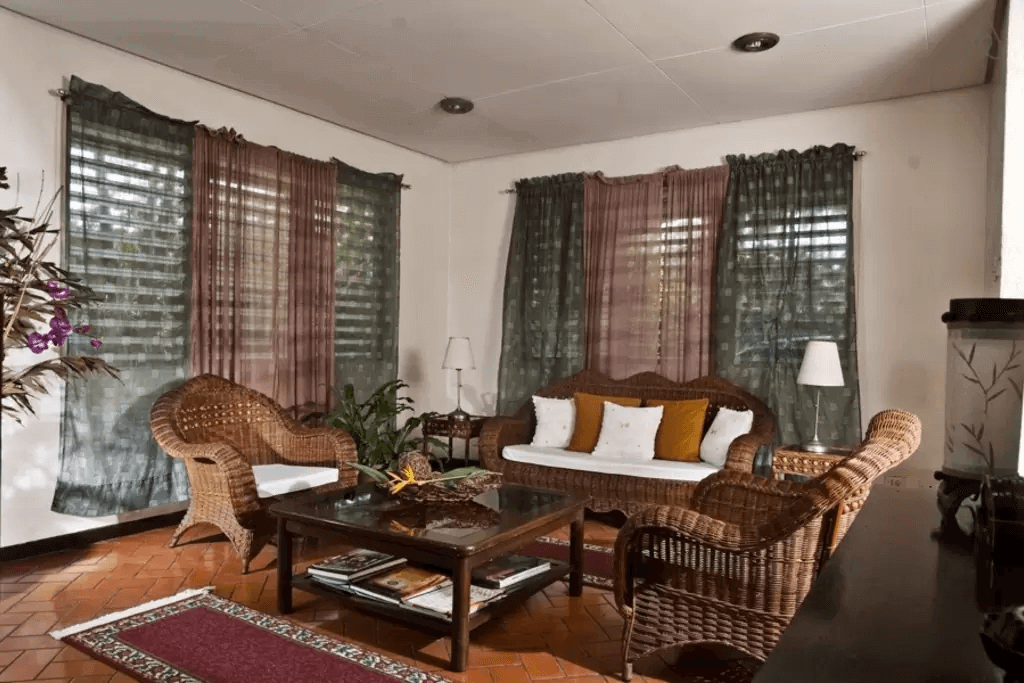 Photo Courtesy of Nina Dony via Airbnb
If you are visiting the National Capital Region, you are in for a treat. Metro Manila is home to top-rated hotels and inns, massive shopping malls, vibrant nightlife districts and a menu of entertainment spots. The region also has a relaxed persona for the introvert and peace-loving traveler.
A suburban Bed & Breakfast near the international airport is available for about $45 (PHP2,007) per night. This Spanish-style home accommodates two to five guests per room. Each air-conditioned room has a private toilet and bath. Indulge in a hearty breakfast in the covered patio facing the garden.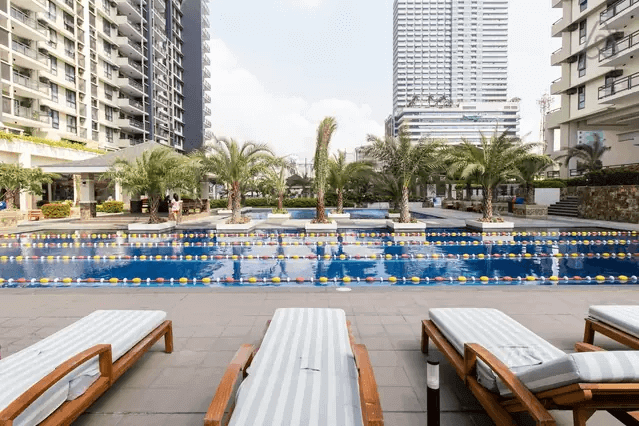 Photo Courtesy of Dave via Airbnb
A condo in the Philippines now serves various purposes. Owners can use it as their residence, lease under long-term contracts or rent it out for a few days to vacationers. Mandaluyong City, which is a "passageway" to several interconnected cities, is one of the top condo rental locations for foreigners.
If you are exploring the Philippines as a group, you may consider a DMCI Flair Towers apartment for rent. This project has resort-like features and makes use of revolutionary technology to deliver a memorable urban living experience.
A two-bedroom unit is available for about $54 (PHP2,408) per night and can accommodate six people. All guests are given access to the facilities, including a pool area and rooftop lounge.
The Philippines is composed of more than 7,100 islands, 81 provinces and countless of wonders to discover. The Cordilleras in northern Luzon has the coolest climate in the archipelago. Each year, millions of locals flock to the country's summer capital, Baguio City, to cool down, have a gastronomic adventure, indulge in Cordillera culture, and take selfies.
Visit a house for rent situated in a peaceful and "pineful" neighborhood in Baguio City. This short-term accommodation, run by doctors, features two well-kept bedrooms, a bathroom, a well-equipped kitchen, washing area and TV. This place is perfect if you are traveling with friends and family. An overnight stay costs about $11 (PHP479) per person.
Head farther north to Mountain Province, the land of Ancient Tribal Headhunters. Stay in an authentic traditional nipa hut in Sagada Heritage Village. Each hut is for around $27 (PHP1,204) per night and can accommodate an entire family. Guests may use the free parking space and may bring pets. Be ready for a tech-free and fun-filled vacation as there is no Internet access in the village.
El Nido in Palawan is considered one of the most beautiful places in the world. If you are traveling alone or with a companion, you may check out Just Inn located near the town proper. This traveler's inn offers a private room with a large bed, a bathroom, cable TV and access to wireless Internet. Just Inn is a laidback, no-frills accommodation perfect for backpackers. An overnight stay is for $13 (PHP602)
JM Pensionne House is one of the top-rated accommodations in Palawan. For $34 per night (PHP1,505), you can enjoy a cozy air-conditioned room perfect for two guests. There is available parking space, access to public transport and an array of restaurants and diners within the area. JM Pensionne is a short 10-minute walk to the beach.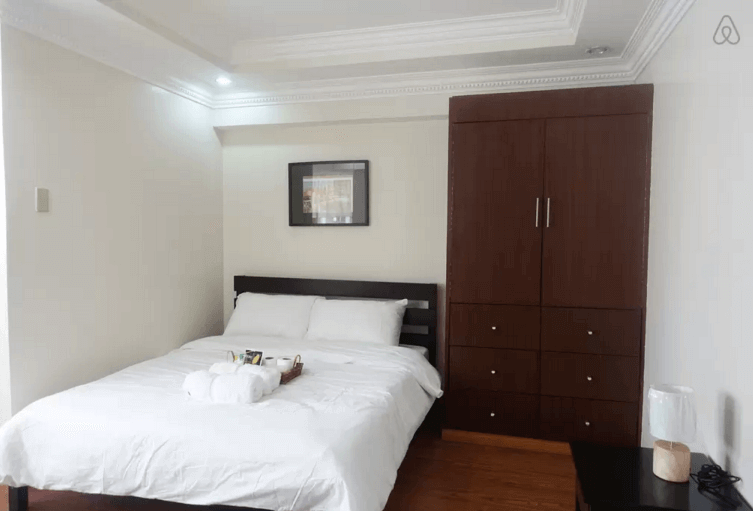 Photo Courtesy of Francis and Eula via Airbnb
Cebu City or the Queen City of the South is one of the Philippines' main domestic shipping hubs. It has a long list of tourist destinations including Magellan's Cross, the Basilica Minore del Santo Nino and a number of shopping malls and stores.
Lone travelers may check out Spartan Room 3 located at the heart of Cebu City. This simple accommodation offers a private air-conditioned room with a tiled bathroom. Guests may cook in the fully-furnished kitchen, complete with a dining area. If you want to avail of the 5% discount, book a weeklong stay in this quaint condo for rent. An overnight stay in Spartan Room 3 is $22 (PHP1,005).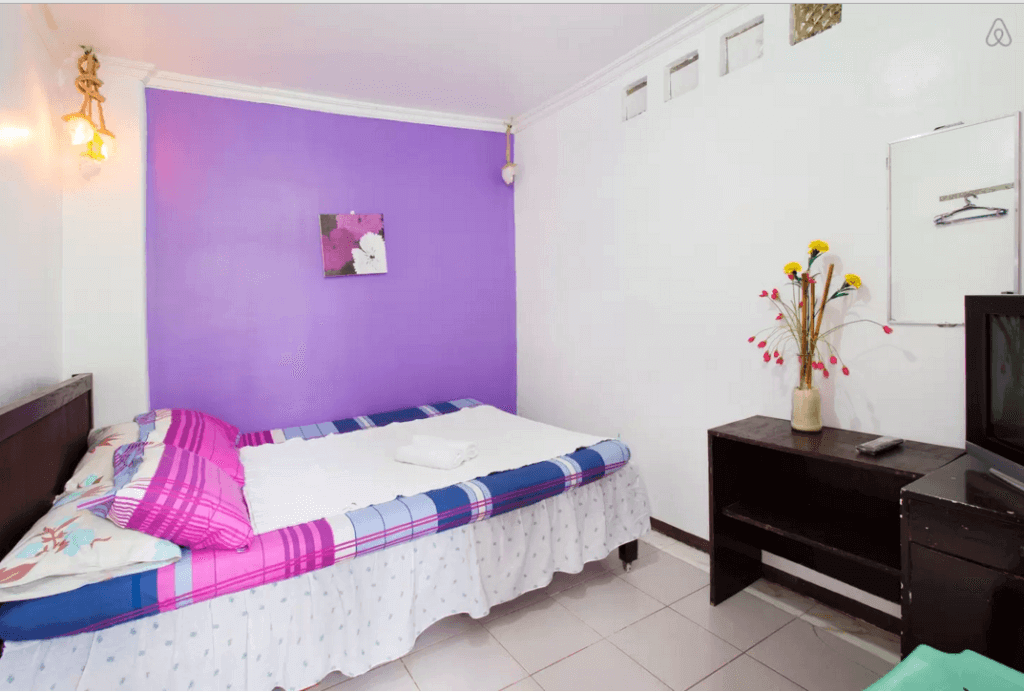 Photo Courtesy of Ervin & Verjet via Airbnb
World-famous Boracay had a record-high tourist arrival in 2015, breaching the government's 1.5 million target. The island remains a favorite destination for its white sands, exciting nightlife and picturesque view.
If you are on a budget, you may visit a Bonueva Homes in Boracay. For $21 per night (PHP953), you can stay in a private room with its own tiled bathroom. Each unit is equipped with a large bed, air-conditioning, heating and wireless Internet. Many guests applaud Bonueva Homes' impeccable housekeeping and courteous staff.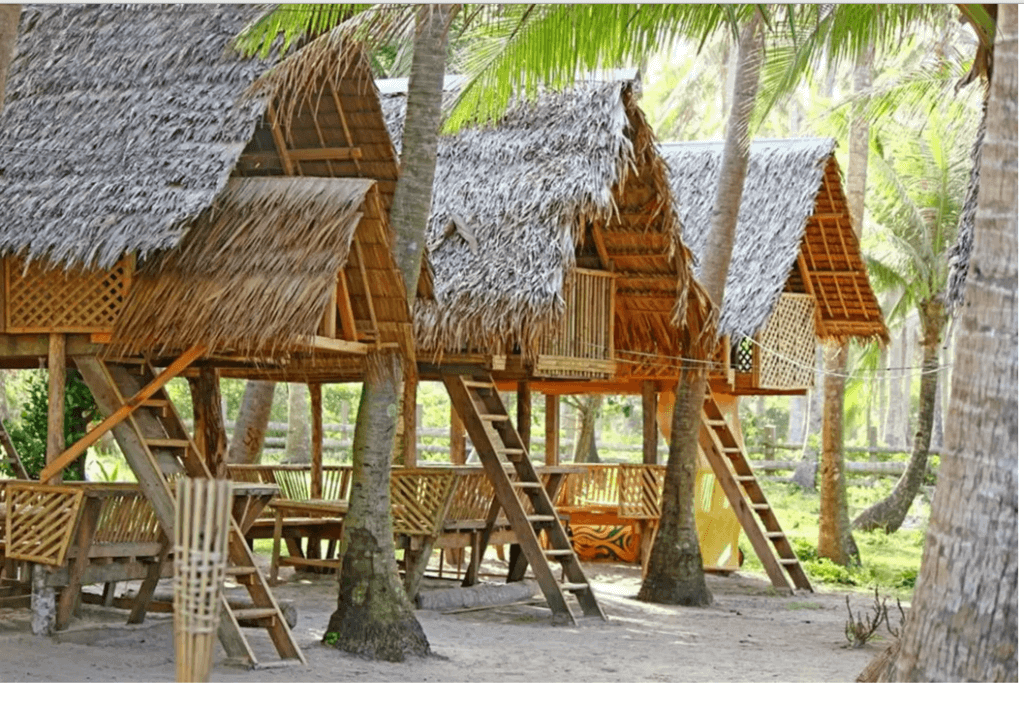 Photo Courtesy of Noli John via Airbnb
The Bicol region is backpacker's paradise. The Mayon Volcano Natural Park is a protected area with 156 floral species and 104 species of land vertebrates. Mount Bulusan, Mount Masaraga, Mount Isarog and Lake Buhi are found in Bicol.
Lola Sayong Eco-Surf Camp in Sorsogon Province is one of the most unique accommodations in the Philippines listed in Airbnb. It features six bedrooms, 12 beds and a camping space for tents. Guests can cook their own meals, take surfing lessons and enjoy nature side trips with the locals. For $18 per night (PHP 803), you can experience an unforgettable vacation in an eco-surf accommodation run by hospitable locals.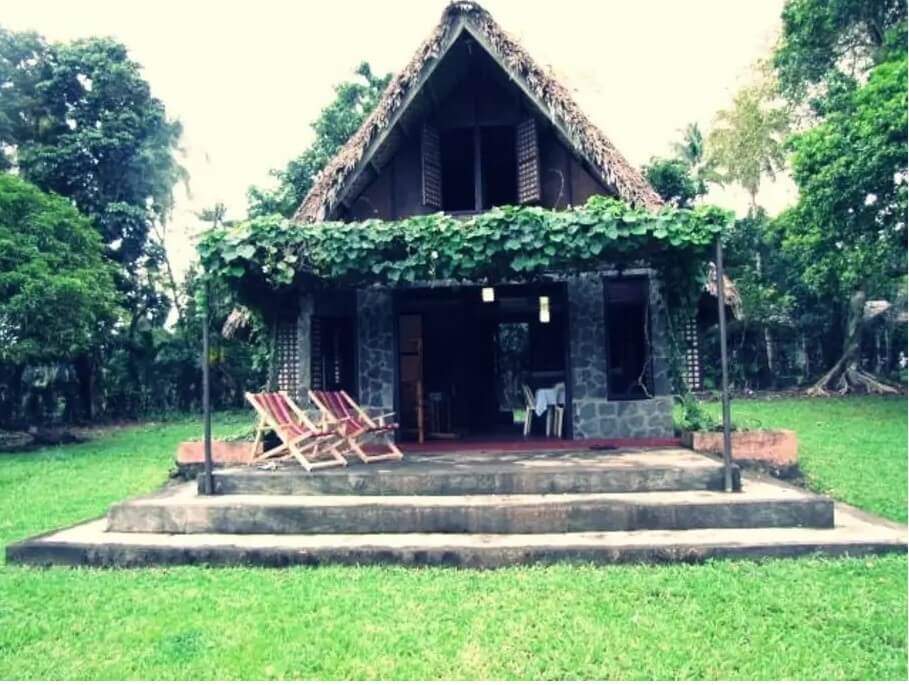 Photo Courtesy of Maria Del Carmen via Airbnb
For $23 (PHP1,050) per night, create a lovely memory while staying in a breezy cabana near the beach. This cabin-type accommodation is a 20-minute ride from Legaspi City Airport and short walk to the town proper. The cabana, which is good for two guests, has an equipped kitchen and free parking. You can also bring your pet with you! Because of its charming presentation, hospitable hosts and stunning location, this cabin is easily one of the most popular Airbnb rentals in the Philippines.
The Philippines is not only a tourist destination. It is the best place to be for a long-term stay. In choosing a dream condo, apartment or nipa hut in the Philippines, deal only with professionals.
An article written by Emily Harper from Security Ocean! Follow her on Facebook and Twitter. Thank you Emily!
For centuries patients have tried sundry herbal supplements for ED – the repeated failure to get an erection firm enough for sexual intercourse. One recent study found that ED affects 140 million men worldwide. If you're concerned about erectile problem, you have to study about how much does levitra cost. Is it possible to prevent ED? Occasionally men are looking for remedies to determination sexual health problem. When you buy medicaments like Cialis you have to ask your pharmacist about levitra cost per pill. Several companies describe it as levitra prices. However, you have to check with your doctor to see whether one of these remedies is a suitable choice for you. Additionally most side effects vary depending on the patient's diseaseage and other factors.