I was a part of Wilderness Search and Rescue (WISAR) entitled "Project Victory Alpha". It was led by the Dr. Ted Esguerra, a high altitude physician, a member of the First Philippine Everest Team, leader of Rescue One team and a coast guard. He came up with this program in tribute to Victor Ayson, for mountaineers to have the knowledge of rescuing and saving lives.
With the help of Sir Mike, Sir Eugene, Sir Buboy, Sie Zeus, Doc Cecil and other volunteers who taught us the skills and knowledge of rescuing and searching in the wild. WISAR is a 5-weekend program that will equip you with the knowledge of the following: Basic Life Support, Trauma Life Support, Ropemanship, Wound and Pain Management. We also had Disaster Management, SAR Ops Seminar, Survival Seminar, Outdoors Leadership and Team Dynamics, Environmental Emergencies.
1st week: Orientation and Basic Trauma Life Support
The first 2 weekends of WISAR was held at Boso Boso, Antipolo. The place is best for outdoor seminars it has a lot of open spaces where the talk can be done under the shade of the trees, we brought our tents with us to pitch in the "foresty" part of the venue, it also has a couple of covered hall where some talks were done.
Our first day in WISAR, we had introduction about the program and the people who are involve in it. After the introduction, Doc Ted talk about anatomy and physiology. Yea! Science! A subject I enjoyed when I was in HS and Elementary, those random muscles and bones name. haha! It's important to know those things because it will be those parts we're going the assests when an emergency happens. After Doc Ted gave his talk its Sir Buboy's turn to talk about Survival and Wilderness lecture. He gave his list of 12 Wilderness Principles and Survival Acronyms.
12 Wilderness Principles
1. A major problem to major body system is a major emergency.
2. Oxygenation and Pertution – a good CPR will help your cell to receive the right oxygen.
3. Compensation – It just talks about how your body will react to an action.
4. Shell Core Effect – Shell as body; core as inner
5. Swelling
6. Ischemia
7. Obstruction and Infection
8. Risk Vs. Benefit – Doing the greater good to the greater number.
9. Acute Stress Reaction
10. Level of Consciousness
11. Improvisation
12. Reason and Emotion – When the emotion is high the level of reasoning is low and vice versa.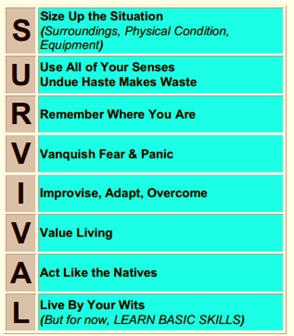 On the 2nd day of our 1st week we have BTLS (Basic Trauma Life Support), it is designed for EMT (Emergency Medical Technician) and first responders, it simply tackles rapid assessment, resuscitation, stabilization and transportation of the trauma patient. It provides education in the initial evaluation and stabilization of the trauma patient.
In this course we were taught how to use triangular bandage to immobilize the trauma patient and how to properly transport them by carrying (1 to multiple person carry). We also taught how to rapidly assess the patient through DCAP BTLS (Deformation, Contusion, Amputation, Abrasion, Avulsion, Puncture, Burn, Tenderness, Laceration, Swelling).
---
2nd Week: BLS, Ropemanship, Navigation and Wound Management
For the first day, we had Ropemanship and Navigation seminar. I hadn't had encountered Ropemanship, I just know how to tie my shoes but other techniques in tying ropes was not my forte. I honestly got dizzy while we're having ropemanship session with Sir Mike. haha! But in the end of the session I mastered how to tie different kinds of figure of 8. haha!
Navigation seminar was headed my Sir Fred Jamili, he is part of First Philippine Everest Team. He taught us how to read maps and use compass. He also taught us to us the star constellations as a compass. It's so fascinating how it is possible to use the stars to locate something.
Disclaimer: Photos aren't mine. Thank you Maam Jo and WISAR Friends for the photos