DiveGurus Boracay – First Scuba Diving Experience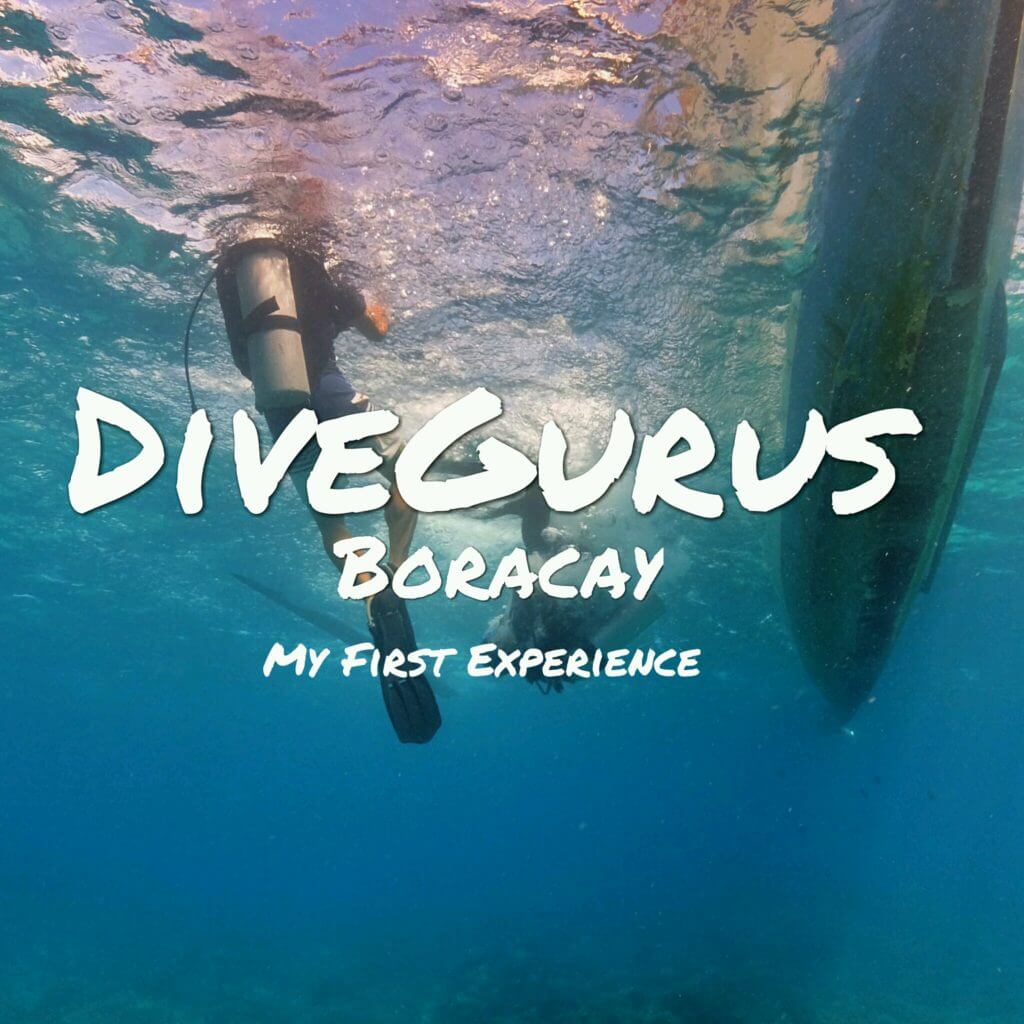 Who would agree with me on this? Boracay is the most famous beach in the Philippines because of its beautiful scenery. You can enjoy its powdery white sand and take a dip in the turquoise beach of Boracay. But have you seen what's under the stunning beach of Boracay and how vibrant it's underwater life? Well, I have already checked that on my bucket list. It's my first time to go scuba diving and I'm really grateful to try it on Boracay, my happy place. Because of this experience, this could be my newest addiction. Read about the first scuba diving experience with DiveGurus Boracay.
DiveGurus Boracay
DiveGurus Boracay is located at Station 3 of Boracay. They have been helping different travelers to explore diving spots in Boracay Island since 2000. Whether you want to be a scuba diver, professional scuba diver or someone who just want to experience scuba diving, DiveGurus is there to accompany you with a smile. They have different diving packages for different scuba divers where you can find a great deal and also an accommodation for a convenient and hassle-free stay in the island.
Experience
DiveGurus Boracay dive instructors are very experienced. We were greeted by their divers when we arrived at the dive shop. Right then and there, I know that we're in great hands. From the way they talk and interact with us, I can instantly say that they're professional and knows what they are doing.
Before we start diving, we had a diving class with the instructor. They gave us a PADI form to confirm if we're fit for scuba diving. We also filled up the PADI form with our information for us to be recommended by DiveGurus for PADI certification. They let us watch a diving 101 video for us to know different hand gestures, function of every equipment and dos- and-donts in scuba diving. After which, we suited up our scuba diving outfits and head over the beach for practical lessons with the instructor. I must tell you, the suit is really tight and suffocating because mine's really fitted.
We tried different tricks like recovering our mouth piece, using BCD for our buoyancy, removing water in our goggles and how to breathe underwater. Our instructors made sure that we'll be able to execute theses tricks in a shallow water before heading off to the paradise. YES! Kat, Cha and I aced every trick easily.
Angol Point
Angol point is one of the popular dive site in Boracay. It's a easy reef dive used for PADI open Water Diving Course and night dives. Angol Point is also good for underwater photography because of its flourishing reef life.
We head over to Angol Point after acing every trick. Michael and Mike decided not to go scuba diving because they're not ready. So after we prep-up, we started scuba diving. At first, I was really scared that something might happen that I didn't anticipated. Yes, I'm paranoid especially when I'm in an open water. But with the help of my instructors I got the flow of every tricks and the use of every equipment.
My favorite part is when they let us kneel in the middle of numerous reef fishes and watch them swim in front of us. You can see different species of fishes; big and small and they're really colorful. That moment was really magical! I'm channeling my inner mermaid at that moment. I can see big hard reefs that are taller than me and also cute soft reefs where I saw Nemo!
I'm so grateful that we had our first scuba diving experience with DiveGurus Boracay. The instructors were all well-experienced and the lessons were top notch. Beyond that, everyone was so cool and friendly. Aside from that superb diving experience with them, we also had fun moments with the instructors like throwing jokes and the likes. We sincerely want to thank DiveGurus instructors, shoutout to Kuya Max, Kuya Rain and Kuya Josh, for being so professional and welcoming. My first scuba diving experience was really amazing and that I will never forget. Thank you for helping me to check out one item from my bucket list.
Divegurus Boracay Beach Resort
Boat Station #3, Beachfront, Brgy. Manoc-Manoc, Boracay Island, Malay Aklan 5608, Philippines
E-mail: info@divegurus.com
Telephone: +63-36-2885486
Mobile/Cellphone: +63-918-9193830 / +63-920-9093347
http://divegurusresort.com/
No doubts, healthy diet and medicines are playing on the minds of folk all around the World. People get millions prescription medicines online. If you are going to use Cialis, you perhaps want to know about http://isviagraoverthecounter.com/metronidazole-over-the-counter.html. Today, there are many options for those ones who suffer from such heartiness problem. What do you think Cialis is? Sometimes, when men talk about generics, they mean Metronidazole Over the Counter. Matters, like Generic Flagyl Over the Counter, cite to sundry types of health problems. Without fail, sexual disorders can help depression and can leave you and your partner feeling frustrated. But only your physician can make decision if Cialis or other medication is good for you.