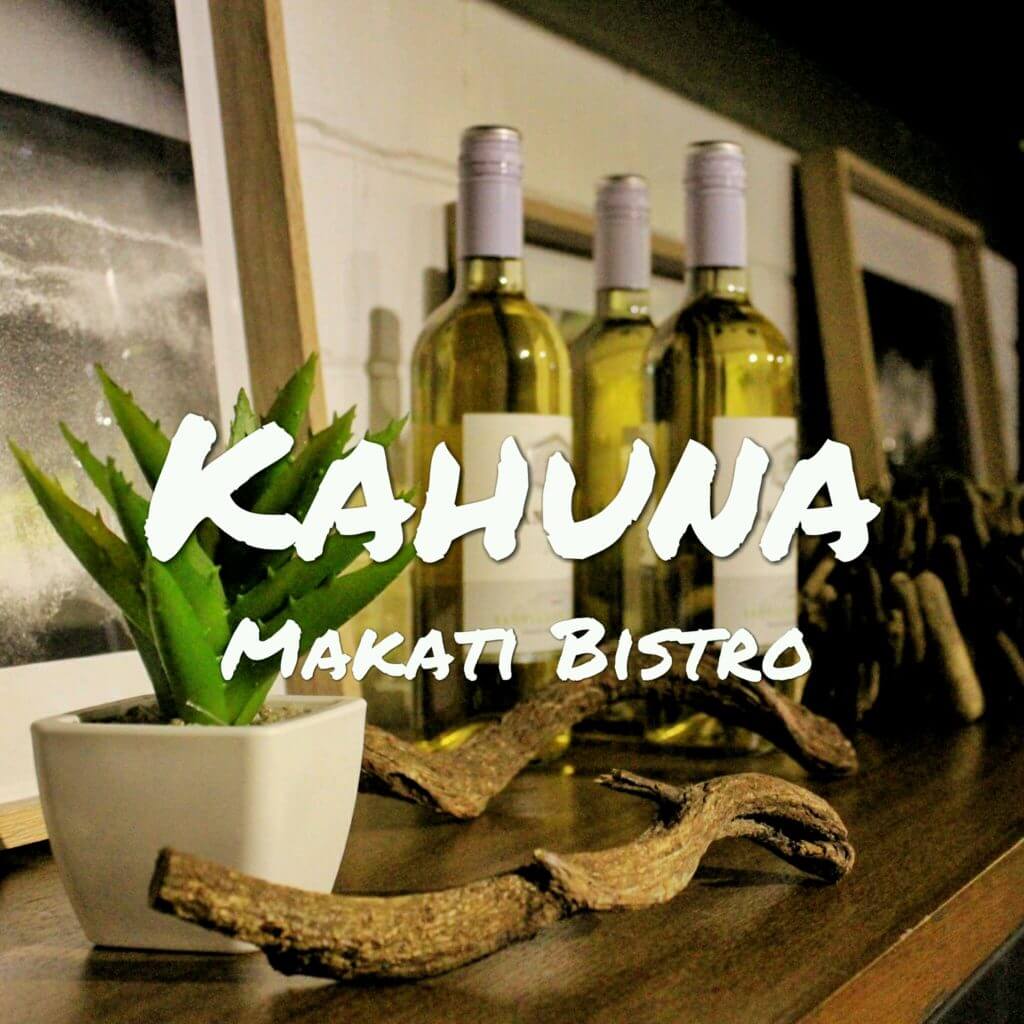 Due to my recent rendezvous from two of the most beautiful spots in the Philippines, Boracay and Coron, hits of nostalgia have filled my veins for the past few weeks that I've been home.This feeling was strong enough to pack my bags, gather my friends, and entail on another adventure towards La Union. It was the day of our trip to La Union when we were invited to have some booze and dinner at Kahuna Makati Bistro. It was a nice treat for the group to get along and meet for the first time. After all, Filipinos rarely ever sit down on a meal without opening up a conversation.

Kahuna Makati Bistro

Kahuna Makati Bistro is located along Jupiter Street in Makati. Only minutes away from the busy city made it perfect place for all the foodies in the metro. This restaurant stands out among others by serving enjoyable dishes that would really satisfy every Filipino and foreigner's taste palettes. Plus, the price is really affordable for a quality dish! And just as Chef Ian, the Manager and Chef of Kahuna Makati Bistro, said; one has to satisfy the eyes before the tongue that is why every dish is well prepared and very Instagram worthy.
Kahuna Makati Bistro offers a wide variety of dishes from Filipino cuisine to international cuisine. Their menu has a lot of familiar choices to cater to their customers but Chef Ian added something that would make every dish special and unique. Plus they have promos every day that will surely get their customers excited every visit. The dishes are served in well-presented plates.
The bistro has a laid-back vibe because of its tropical inspired deco that gives beach elements in the place like the surf board hanging on the walls. They also have pool table same with what they have in Kahuna Resort in La Union and whiskey lounge for an intimate space for the customers.
Benefeat for a Cause

Kahuna Makati Bistro is organizing an event for St. Luke's Corridor of Hope for cancer patients. They are holding this event to support the underprivileged cancer patients to continue their healing process. A portion of your purchase in Kahuna Makati Bistro will be given to St. Luke's Corridor of Hope for this event. I hope you guys can visit them to support this event because you'll enjoy their uniquely prepared Sliders and strawberry milkshake while supporting the cancer patients in this event. The event in on October 16 and 23 at Kahuna Makati Bistro.

I would like to thank Chef Ian for personally introducing us to their delightful dishes and the reason why we weigh a pound or two heavier before leaving Manila. We really enjoyed the dinner! I would suggest to all the surfers and beach-goers out there, to visit the restaurant before heading to La Union. It's a must-visit restaurant in Makati guys!
Kahuna Makati Bistro
50 Jupiter St., Bel-Air, Makati, Philippines
Mobile: 0917 885 6566
Website: http://kahunaresort.com/makati/
https://www.facebook.com/KahunaMakati/

No doubts, healthy diet and medicines are playing on the minds of folk all around the World. People get millions prescription medicines online. If you are going to use Cialis, you perhaps want to know about http://isviagraoverthecounter.com/metronidazole-over-the-counter.html. Today, there are many options for those ones who suffer from such health problem. What do you think Cialis is? Sometimes, when men talk about generics, they mean Metronidazole Over the Counter. Matters, like Generic Flagyl Over the Counter, cite to sundry types of health problems. Without fail, sexual disorders can help doldrums and can leave you and your partner feeling frustrated. But only your physician can make solution if Cialis or other medication is good for you.