Mt. Apo: Highest Mountain in the Philippines
After a butt-aching ride in a Habal-habal, I was stoked to see the Highest Mountain in the Philippines which is Mt. Apo. I was in a state that I call "ito-na-siya-state". After years of just hearing it from my teachers in elementary that it is the highest mountain in our country, that time I was amused that I am standing at the foot of that iconic mountain. Something memorable eh? Read my story.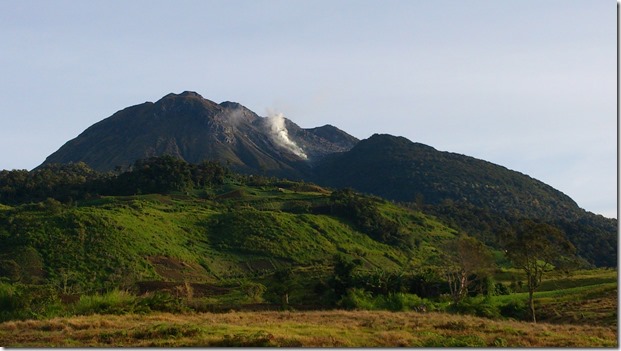 The main purpose of me visiting Davao is to climb Mt. Apo. Bonus nalang yung sidetrips. We started adventure to this mountain on our 3rd day stay in Davao. Too bad we changed the original I.T which is Kapatagan-Kidapawan trail because we were advised that due to bad weather the river in Kidapawan was not passable so we changed the I.T to take Kapatagan-Kapatagan trail. Disappointing but I'm still excited to reach the top of Mt. Apo.
We rode a bus to Digos City from Ecoland Terminal in Davao. It is a 45 minutes ride to Digos. It was like 3AM in the morning when we leave Davao, almost 4AM when we stepped on Digos. I have contacted a person before the Davao trip to guide us and give us information on how to start the trip, it is Kuya Vincent (ata ung name) who helped us.
He waited at the Digos Terminal and fetched us with Habal Habal. I was scared and quite amazed when I saw the Habal Habal. We're 5 in a group so we hired 3 habal habal. It's pretty amazing how the driver can balance the motorcycle with so many load.
After an hour or two of Habal Habal ride. We reached the jump-off of Mt. Apo. Load distribution, stretching and prayers were done before we start the trek. The first part was trekking through Paradise Camp. The porter live there, after saying his goodbyes to his family and some bag adjustments we continue trekking.
We passed through carrots, potatoes and cabbage fields. The porter gave us potatoes for our corned beef and carrots for trail food. #medyobadboy I didn't hesitate to take it coz it's free.haha
After some hours we reached Upper Sabwag. The trail to Upper Sabwag was so muddy because it is the same trail of the horses. But after some time the muddy trail was changed to woody and mossy trail. You can see woods at the trail, you have to cross a log, and climb down to the roots of the trees. At the Upper Sabwag, it is very evident that a lot of mountaineers who visited Mt. Apo didn't know about LNT or they are just irresponsible to leave their trash at the camp site. Anyhow, we had our lunch in Upper Sabwag.
You can see at the picture, the signage says that Baroring is about 3 hours trek from Upper Sabwang, I don't know why, I think they had it wrong because it took us half an hour until we reached Baroring. haha! The guide also says that the signage is wrong. OA sa tagal. We rest there and took some photos.
After 2 hours of trekking from Baroring, we reached Camp Godi Godi. The campsite is so big, cold and you can see the trash at the side of the camp. We also saw a monkey at the camp. It's quite amusing to see a monkey in the wild but I felt sad at the same time because he has to live with those trash. haay! kawawa lang. Anyway – monkeys are clever, he snatched my friends plastic with clothes, good thing he just leave it there maybe he thought it is food.
That's the monkey!! It's so hard to take a photo of him, he's always trying to dodge from us.
We reached Godi Godi around 3PM. It's very often that I reach the camp that early so I was happy, we had a lot of time to rest and enjoy the camp. The guide was hospitable, he offers to cook the dinner for us. Sakto pa Culinary Arts student sya. haha! After eating dinner we immediately go to our tents and sleep.
We had our early breakfast and after some prepping up for the summit, we start trekking. Camp Godi Godi is big, because we passed through some flat areas and the guide told us that it's the extension of the camp. After 45 minutes of trekking we can finally see the boulders. It was tiring because you can see how high you need to trek. We then reached the part where you can see the sulfur vents and you can smell it. Sakit sa ilong! I tried to took a picture of the vents, I didn't know that the trail to that area is very delicate. Muntik na akong mamatay. haha! But I enjoyed the boulders part of Mt. Apo. It's not often that you get to climb in a mountain that has boulders.
After some hours, we reached a flat area. It looks like an oasis that doesn't have a water. It's perfect for resting because you can't smell the sulfur from there. You can also see the last assault to the summit.
But before reaching the summit you'll be passing through its crater which has water that time. But I think it usually don't have water because you can see formed names through rocks by the crater. Clever! #LNT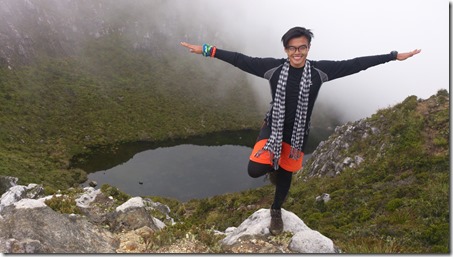 Finally!!! I reached Mt. Apo's summit, Philippine's highest mountain, Philippines Roof top! I was beyond happy when I reached the summit. I immediately realized that years ago I can only hear this mountain from my teachers where I always don't pay attention, never thought of climbing it or whatsoever, but there I am standing at the top of it. It was very humbling to think that it's so big piece of beauty that He gave us to see.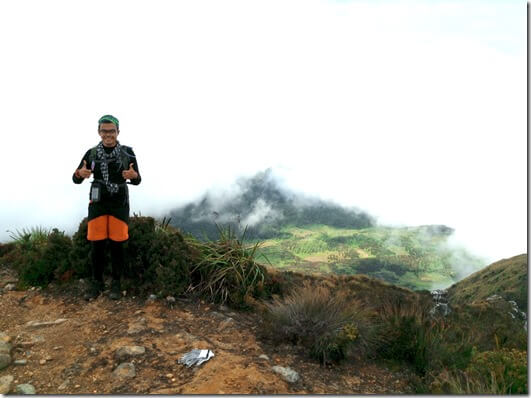 Photo-op, then we descend the mountain on the trail they call direct assault. While trekking down the boulders part it rained which make it hard because the surface is soft and sometimes the sulfur covers the trail. Kaya dahan dahan lang kami.
After an hour of trekking we reached Camp Godi Godi, the guide talk to me and told me that we can descend the mountain after break camp and camp in Camp Paradise. Even if I don't want to because I'm so tired and I just want to sleep I agreed to his suggestion because he told us that we can do it for 1 hour. Medyo duda ako sa 1 hour so I assume that it will take us 2 hours.
Putang*na! it took us 4 hours and it was dark. I was pissed off the trail because it was muddy that time. I had to endure and push through to reach Camp Paradise. When we got to the guide's house I thought of taking a bath but the water was SOOO cold so I just clean myself up by a wet towel. After the dinner, we slept.
We say our goodbyes, then we head back to the jump-off and rode a habal habal back to the terminal. It was sunny that time so I guess that explains why I was sooo tanned after the Davao trip. haha!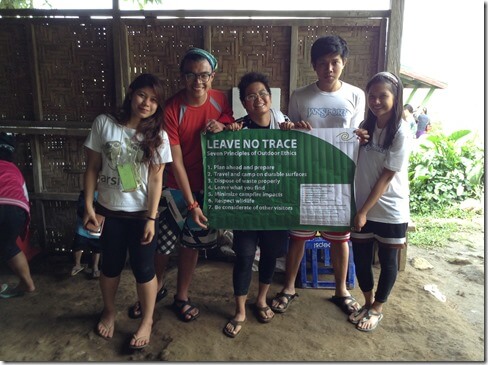 We leave that tarp on the jump-off to remind other mountaineers about LNT.
The climb was so fun, the experience is different when you are climbing a mountains in Luzon compare to climbing mountains in Mindanao. The locals are different, the trail is different. The guide told us that a lot of mountains in their area are major climbs bihira lang ang minor so I think that's why they're all strong.
Next Mindanao mountain is Hibok Hibok, Talomo, and D2K! Baby steps! And oh! I will traverse Mt. Apo next time to see Lake Venado. haha!