Our organization (MIT-MC) had our induction in Bakun Trio. We're aiming to summit the 3 mountains of Bakun. But the sad truth is that we hadn't. Anyway, The first mountain is Mt. Lubo which the highest among the three mountains and also the easiest to climb.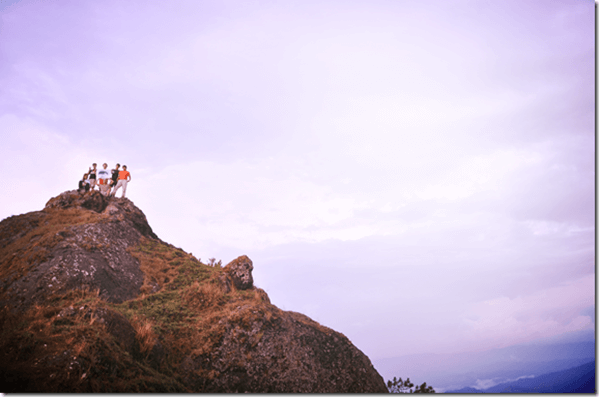 Mt. Lubo is located at Bakun Poblacion, Benguet but you have to start the trek from Brgy. Dada to reach the summit of Mt. Lubo. Among the 3 mountains in Bakun, Lubo is the highest it stands 2000masl. Like I said before the trail in this mountain is the easiest so the mountaineers who attempt to peak the 3 mountains in Bakun always starts in Lubo.
We started the trek late, almost 2pm, it was misty that afternoon. We're expecting to rain hard so we brought our ponchos with us. As expected it rained and it was damn hard. We saw a small house where we stayed for awhile to eat because we're tired, hungry and cold at the same time. I was freezing inside the poncho but we still continued our trek to the summit.
After almost 3hrs of trekking we reached a gate that separates a big uphill boulders to the summit. Finally, the sun comes up and the view at the top was breath taking! Kabunian and Tenglawan is overlooking at the summit of Lubo.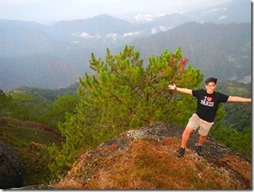 We didn't spend much at the summit. We trek down to Poblacion and it took us 2 hours to reach Poblacion. The trail was mossy and slippery so had to slow down. I've had couple of stupid slips down the trail. Limatik was everywhere that time. I had my first Limatik attack in this mountain. As first timer, I stayed calm and alert. haha! joke! nataranta din ako. But then we still continue our trek to Poblacion. The moment we reached Poblacion I've said to myself 1 down 2 more to go and I want Coke! haha! It's kinda new to me to do 3 consecutive dayhikes in 3 days. haha!
Here's a little video I made at the top of Mt. Lubo. I was planning to make a panorama shoot but then I was so lazy to take photos of the 360 degree view of the mountain so what I did is a panorama video where I am the foreground and the view is the background. Practical and smart. YEA?
Mt. Lubo from Mc Pol Cruz on Vimeo.
Check this out: Weekend Sidetrip at Mt. Tenglawan | Bakun Trip
Photo and Video credits: Joe, Victor and Issa:) Thank youuuu!