A trip to Mt. Damas and Ubod Falls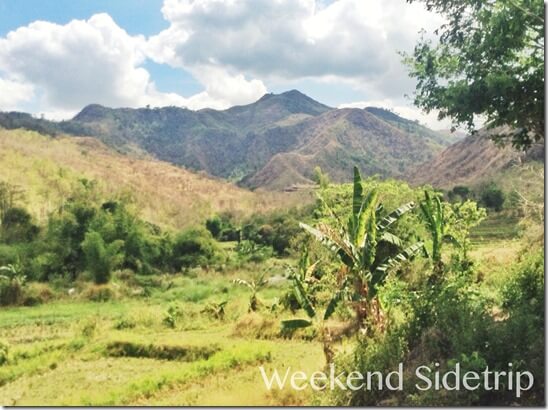 This blog, as well as my adventures, were both put into a hiatus due to school commitments. Since the term is finally over we've decided to start the summer off by climbing Mt. Damas and tripping to Ubod falls. For the first time ever members of Alumni, inductees and school based members of our organization is climbing one mountain at the same time.
It was sunny that day when we rode Solid North bus in Cubao to go to Camiling, Tarlac. It was very hot and I was looking for sleeves in the Market where the bus dropped us off because I forgot to bring my sleeves. Unfortunately, I have to endure the sun. We hired a chartered jeep to drop us to Brgy. Papaac. It was almost 1 hour jeepney ride from Camiling proper to Papaac.
We coordinated with the people of barangay to help us on finding a guide for this trip. Luckily, they are approachable and they helped us out. While we're waiting for Mang Jun and his son, Paul, we prep up to start trek.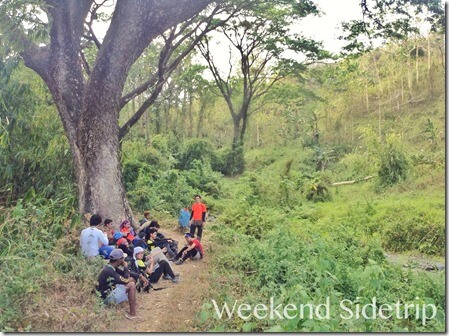 After some minutes, we started trekking. Good thing, I brought my umbrella with me because the sun is freaking hot, the sun rays is almost stinging. The first part of the trail, no trees shading the trail. After a few minutes we finally reached the river.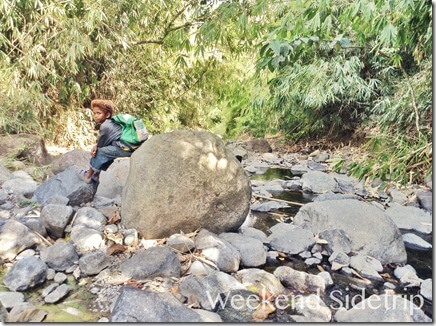 It was a long river trek. This phase of the trail was rocky, we did a lot of rock climbing because we have to descend on the falls to reach the foot of Mt. Damas. I enjoyed the trail because it was challenging. I love this kind of trails because it forces me to think on what to do to conquer the trail which made me not to think about my getting tired body.
Syempre, bawal ang walang selfie. haha! Anyway, after hours of trekking through river beds, we finally reached the foot of Mt. Damas. We're resting by the river until the guide told us that the challenge was just about to begin, I was like "WEH?!". Then he showed us the trail and I was like "SERYOSO KUYA?! DEREDERECHONG GANYAN?!" and Kuya was like "NAKUHA MO!! TUMPAK!!" haha!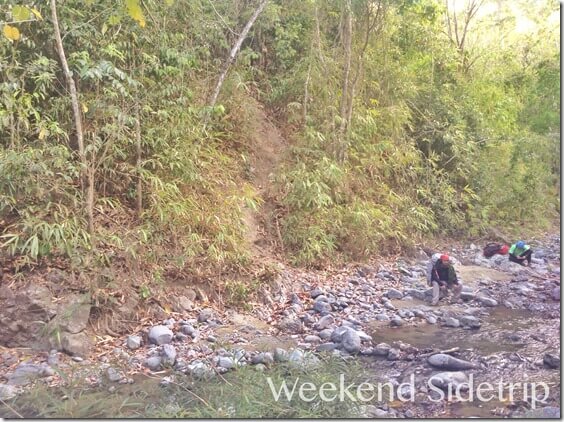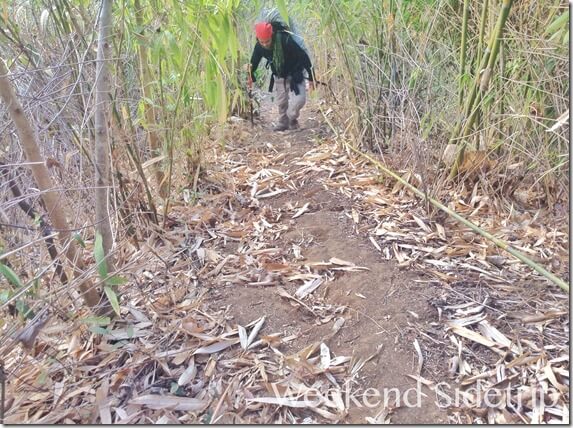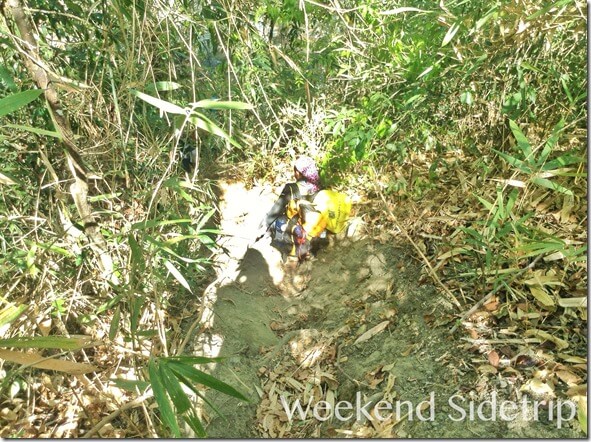 It is a continuous assault trail to the top of Mt. Damas. I just did a Zombie-like trekking to conserve my energy. I'm trying to assist myself not to get cramps because I'm close to getting one. My friends are shouting "Nak Ng!! Parang pinilit yung trail!!!!" hahaha! I was thinking the same thing. haha
Finally, we reached the campsite, just beside the summit of Mt. Damas. We can't pitch ours on the summit because there were other groups from Gamenest and TMC who were already there. Good thing, the campsite is spacious for we were able to pitched 10 tents. After building the camp, we immediately cooked our dinner, eat, drink and rest.
After breakfast we fixed our things, and climbed the summit. The view from the top is beautiful. It has 360 degree view of the area. You can see the neighboring mountain of Mt. Damas and the rest of Tarlac.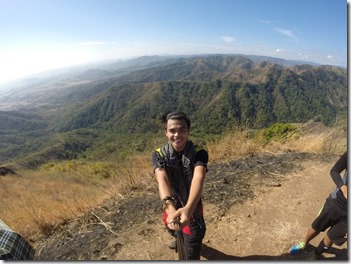 After reaching the top, we broke our camp and headed down to the foot of the mountain. We trekked our way to Ubod falls. We had to climb 3 mini falls to reach the Ubod Falls. It's so beautiful. It was my second time to witness the beauty of the falls in Tarlac, the first one was the Anzap Falls. The tiring climb, scorching hot ray of the sun and my neggie skin (SAD!) were all worth it.
GANDA NOOOO!
The climb was amazing and it was a great way to start off the summer. Finally, I climbed Mt. Damas and had a sidetrip to Ubod Falls which made it extra special. I would like to thank Kuya Nik who organized this climb and my MIT-MC family.