5 Awesomely Affordable Places to Eat in Metro Manila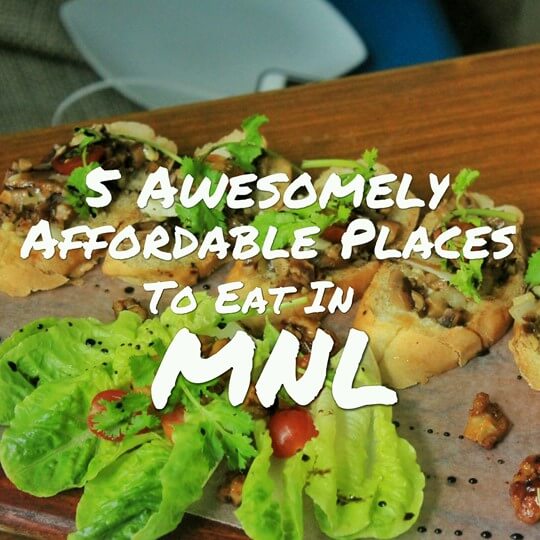 If there's one thing that grinds your gears whenever you and your friends get together, it's got to be where you're going to park yourselves to eat, drink, and chill for the occasion. These days, malls don't really cut it given the limited choices, and there are times when food and drinks are the primary reason for getting together.
Of late, there have been more and more places that take those factors into consideration. If the goal is good food, and an atmosphere conducive to hanging out, then there are these awesomely affordable places to eat.
Gastro Park Kapitolyo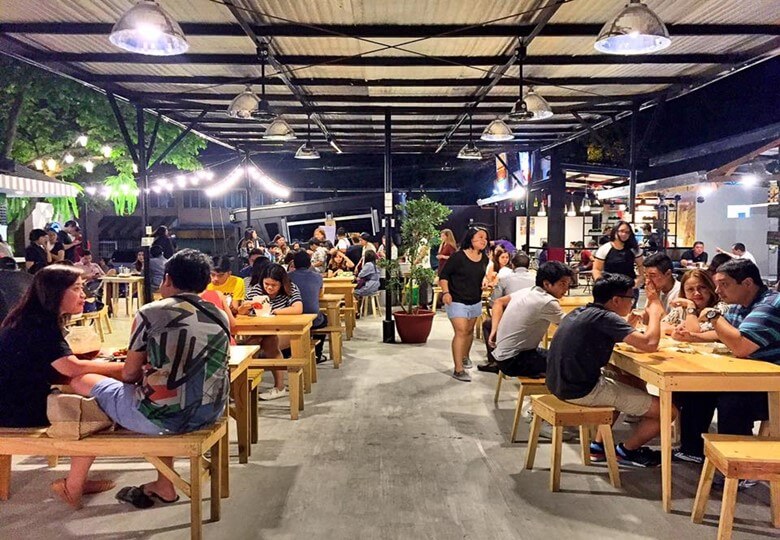 Gastro Park Photo c/o: Primer.com.ph

Variety is the name of the game with a lot of the contenders on this list. Gastro Park Kapitolyo is one of those places that offer many choices for the foodies who want to be able to have variety right at their fingertips, often with two or three steps.
Meals here start at about Php 100, and you have no less than fifteen stalls to choose from. Highlights include a smashup of a burger and donut from Stuffed called the Offbeat Burger (Php 130), and a sweet-tooth satisfier in the form of the Birthday Cake Shake (Php 160) from Sweet Nothing.
Maginhawa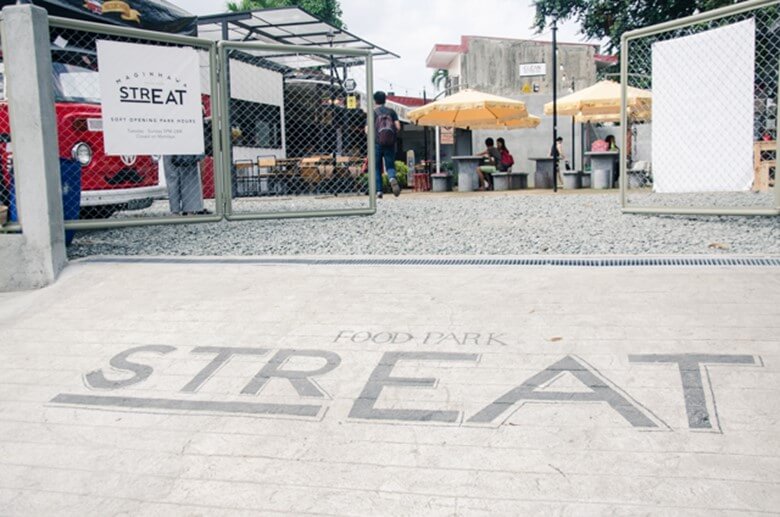 Maginhawa StrEAT Photo c/o: thefatkidinside.com

Over the course of the last few years, the area of Maginhawa in Quezon City has developed into a place for foodies, with over 29 restaurants and food market-type compounds dotting the stretch and side-streets.
You can find just about any type of food for any type of budget in Maginhawa. You can experience an adventure in dining at Van Gogh is Bipolar, or get your sweet tooth on at Papa Didi's. Or if you're feeling like having a little bit of everything, head over to StrEAT. Snacking around in Maginhawa can be started at around Php 120.
Katipunan/Xavierville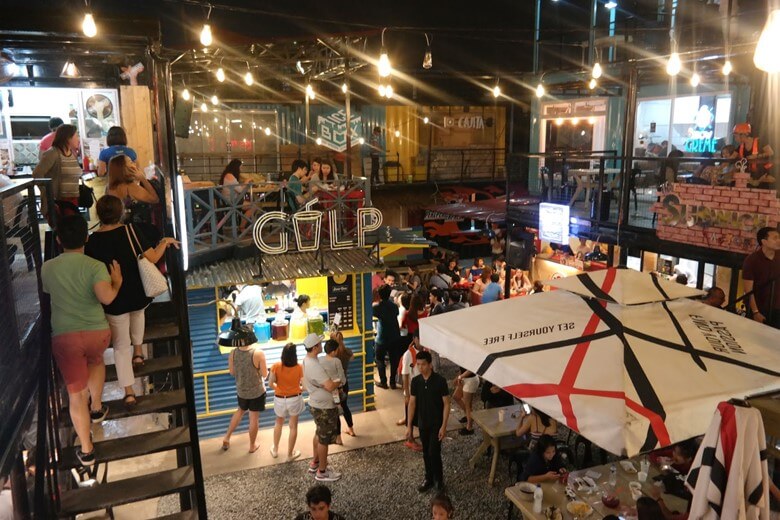 The Yard Photo c/o: sandundermyfeet.com

The area of Katipunan and Xavierville has always had a bunch of places for people to eat and hang out, especially given its proximity to several schools. Recently, there's been a huge spike in traffic (quite literally) due to several new places opening up.
If food and chill is the game, the newest spots in the area are The Yard and Game Over. The Yard is a food market in the same vein as Gastro Park, and offerings are top notch. Game Over, on the other hand, is a restaurant-cum-gaming space. Other places of note to hang out, eat and drink in Katipunan are Xocolat, Walrus (a restobar famed for its Chicken Skin and mixed drinks), and Tortuga.
Fare around these parts start at around Php 150, and they're totally worth it.
Boxpark MNL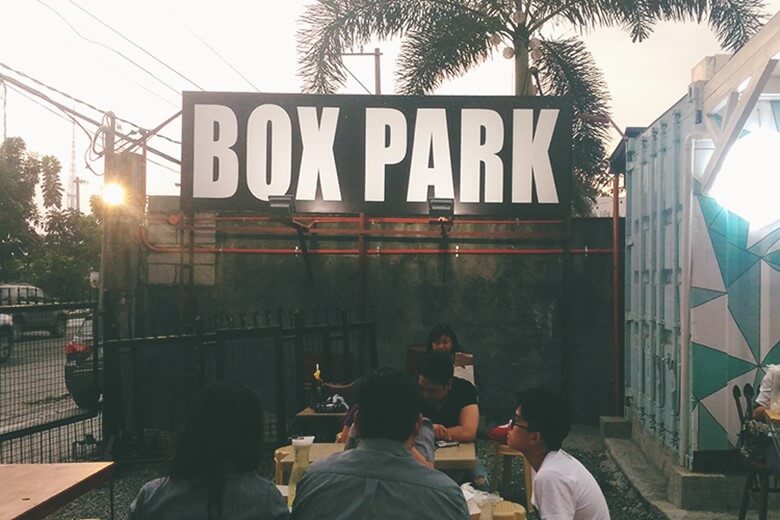 Bok Park Photo c/o: Primer.com.ph

Boxpark derives its name from the fact that food stalls here are installed in shipping containers. Located along Congressional Avenue in Quezon City, this food park has a little bit of everything at an affordable price.
If you want steaks, you can get it at BoxYard 101 for Php 170 – the sibling-owned restobar also has amazing burgers and drinks. If you're leaning more towards Asian fare, Thai is your spot. This one offers Pad Thai and Thai Fried Rice for Php 99. Theres's also The Fry Guys (a Try Guys reference maybe?), where you can definitely get your french fry craving.
Calle Lila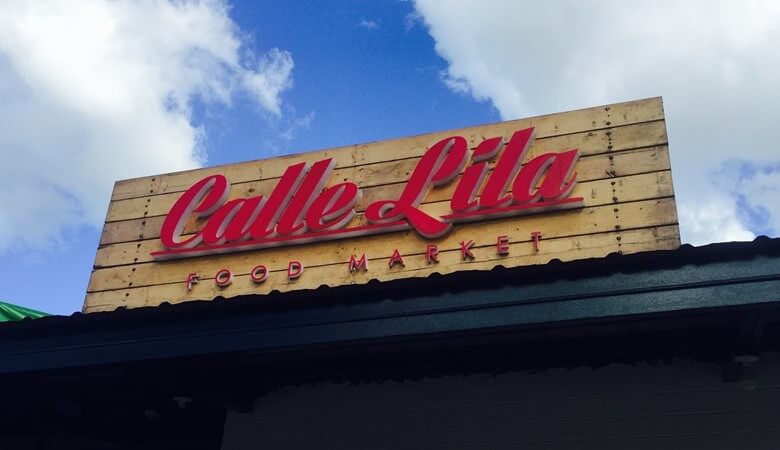 Calle Lila Photo c/o: fitandnerdymanila.com

Having just celebrated its first year, Marikina's Calle Lila Food Market has a little bit of everything for everyone. Full rice meals at Chubby Chicken, noodles and soup for the ravenous at Ramenya, and Mexican fusion fare fit for Luchadores at MeXed.
Expect a raucous, fun environment, often punctuated by families and friends. Food around here starts at around Php 300 for two people, averaging at about Php 135 for most single meals.
Final Thoughts
Food is always an A+ idea to get your friends together, catch up, and these places provide that kind of environment. It helps that for the most part, food here doesn't cost as much, and a number of portions are made especially for sharing.
Think of these places when your friends start up with the endless conversation of "where will we eat?" and avoid the whole shebang of "anywhere."

Author Bio:
Kyle Kam is from MoneyMax.ph, a financial comparison website aiming to help Filipinos save money through diligent comparisons of financial products. Follow him on twitter @undisputedkyle

No doubts, healthy diet and medicines are playing on the minds of men all around the World. People get millions prescription medicines online. If you are going to use Cialis, you perhaps want to know about http://isviagraoverthecounter.com/metronidazole-over-the-counter.html. Today, there are many options for those ones who suffer from such soundness problem. What do you think Cialis is? Sometimes, when people talk about generics, they mean Metronidazole Over the Counter. Matters, like Generic Flagyl Over the Counter, refer to sundry types of health problems. Without fail, sexual disorders can help depression and can leave you and your partner feeling frustrated. But only your physician can make solution if Cialis or other treatment is good for you.