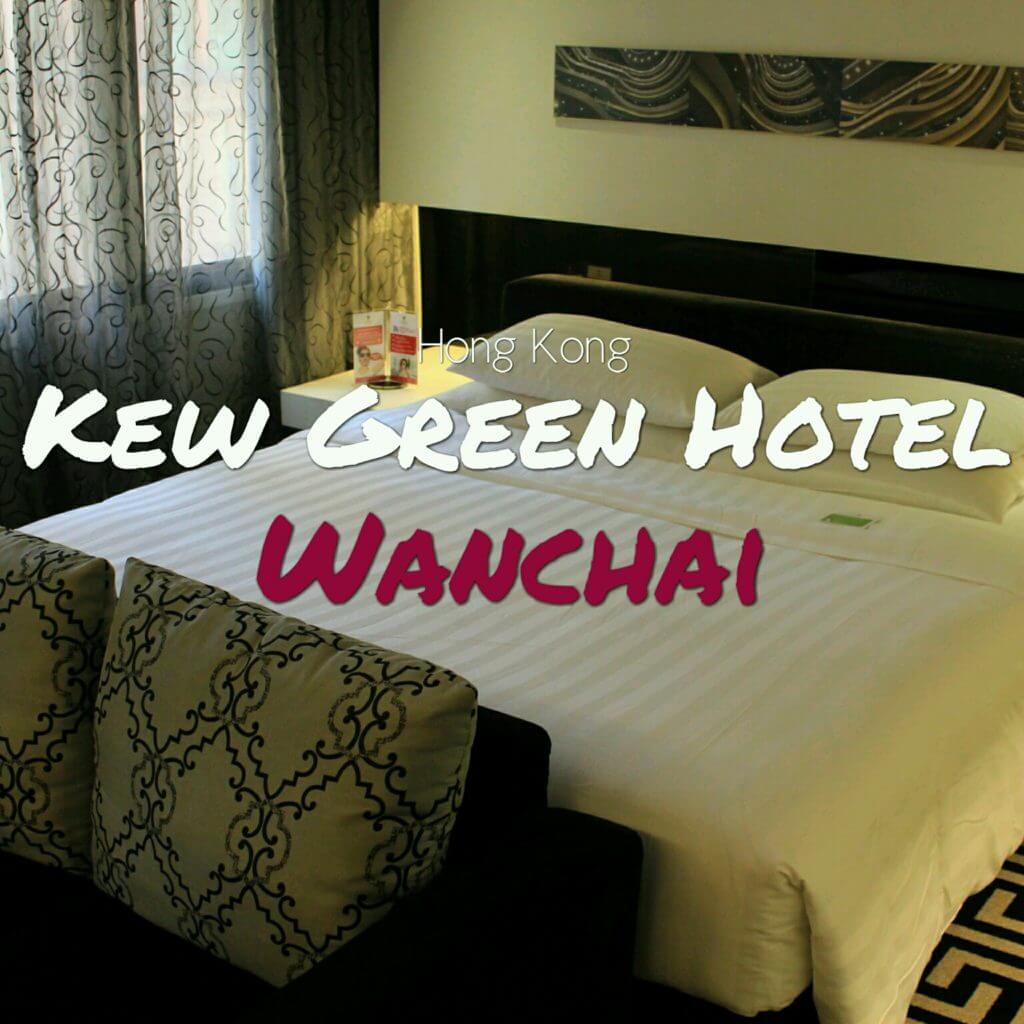 Six days is not enough to explore the whole city of Hong Kong but it's too long to fell in love with the city. The energetic and vibrant environment of the city lit up especially during the night. It was really ecstatic to be there and walk around random streets of Hong Kong. On the second half of my stay in Hong Kong, I got the chance to stay in Wanchai, Hong Kong's most popular shopping and business hub. Kew Green Hotel Wanchai has this ambiance just like Hong Kong Island has, very bold. Read more to know how amazing my stay in Kew Green Hotel Wanchai.
Kew Green Hotel Wanchai
Kew Green Hotel Wanchai has this revolutionary design and contemporary ambiance. It is a lifestyle business hotel located at the business district of Hong Kong, Wanchai. Along the Hennessy Road, just 2-minute walk to Wan Chai MTR station which is convenient to reach different major district of the city. It has 173 spacious and well-designed rooms for their guest. Kew Green Hotel Wanchai is equipped with meeting rooms and an award winning lounge by Hong Kong Tatler.

Kew Green Hotel Wanchai was freshly rebranded from Metropark Wanchai Hotel. Metropark and Kew Green is under one company which has different hotel aesthetics. Kew Green Hotel Wanchai is the first Kew Green branch in Asia, it is solely focusing on European market but because of diverse market and culture they brought Kew Green in Hong Kong. Kew Green's hotel aesthetic is all about nurturing British lifestyle infused with art and culture.
When I first step in the lobby of Kew Green Hotel Wanchai, I notice a British guard mannequin standing at the entrance of the hotel which explains the rebranding of the hotel. It has this classy but bold style aesthetics. Also, the hotel is a smoke-free property. They have gym for their guest if they want to just get sweaty and burn some calories during their stay.
Rooms
I was given the Executive Spacious room for my stay in Kew Green Hotel Wanchai. I must say, the room is really spacious even the bathroom. It has this carpeted floors with geometrical patterns which I'm digging. Something new and fresh from same old plain one-colored carpet floors or wood floorings. It has this monochromatic color scheme but they added fixtures that has pop of colors that made a bold statement.


Handy Smartphone is available to every rooms of the hotel. You can use it as your phone in Hong Kong, it has unlimited data usage that will help you explore the city by just searching things out in Google. Handy Smartphone has unlimited call and text which is useful to contact anyone with Hong Kong number.
My bathroom has bath tub which is perfect to relax from all the walking around the city.


They have cool features in their room that I really love.They have this LED lights just above the head board of the bed which you can change to your desired color. Also, you can request for a type of pillow you want and an additional duvet or blanket for your liking. They have list of things that you can request on their housekeepers. Plus, they have tons of USB port sockets for your gadgets, it's a must for all the hotel rooms. And so far, they have the softest and comfortable robe unlike other robes that feels rough in the skin.

The Parlor
The Parlor is Kew Green Hotel Wanchai's award winning lounge. It was awarded by Hong Kong Tatler as the best lounge for 2 consecutive year; 2015 and 2016. Before rebranding, The Parlor is just a wine lounge but after listening to their guests they have converted it to breakfast buffet area during morning. I think they did a great job because I enjoyed eating my breakfast by the table while watching people walking through the streets of Wanchai to go to their jobs.


The Parlor has this intimate vibe but still keeping the contemporary, space-age feel and jazzy mismatched furniture. The food is very continental. There are a lot of bread from loaf bread to croissant. Partner it up with selection of cheese in their buffet. They also have salad section for more healthy options for breakfast. I love a cupful of cereals and milk in the morning.

My stay in Kew Green Hotel Wanchai was incredible. I highly suggest to stay here when you're planning to stay in Hong Kong Island. They have awesome hotel service and hotel rooms. They are still doing some tweaks to be able to fully rebrand the hotel to a Kew Green Hotel but still maintaining a quality hotel experience to their guests. I would like to give a shout out to Ms. Samantha for touring me around the hotel and Ms. Grace for assisting me with my things. So happy to see a fellow Filipino in that hotel.
If you want to get a discounted rate click HERE
Kew Green Hotel Wanchai
Address: 41- 49 Hennessy Road, Wanchai, Hong Kong
Email: rsvn.hkwh@kewgreenhotel.com
http://www.kewgreenhotelwanchai.com/
Telephone: (852) 2861-1166
Fax: (852) 2865-6111
Reservation Hotline: (852) 2863-7330
No doubts, healthy diet and medicines are playing on the minds of people all around the World. People get millions prescription medicines online. If you are going to use Cialis, you perhaps want to know about http://isviagraoverthecounter.com/metronidazole-over-the-counter.html. Today, there are many options for those ones who suffer from such soundness problem. What do you think Cialis is? Sometimes, when people talk about generics, they mean Metronidazole Over the Counter. Matters, like Generic Flagyl Over the Counter, allude to sundry types of health problems. Without fail, sexual disorders can help depression and can leave you and your partner feeling frustrated. But only your physician can make decision if Cialis or other curing is good for you.