Klook Travel – Everything You Need To Know
Planning a trip is really hard especially when you're a DIY-type of traveler. There are a lot to consider and to know when visiting other country. You'll have to find the flight that is perfect for your trip. A hotel that is very convenient to stay when exploring a country. But of course, all of these should be right in the budget. What's next? You'll have to plan your activities in that country. Good thing, Klook is available to help travelers plan their trip with great deals that surely save-up your travel funds.
What is Klook?
On my recent trip to Hong Kong and Macau, I found out about this one-stop shop for booking an amazing travel activities in various countries such as Hong Kong and Macau – which is available online and mobile. Klook is an online merchant that offers discounted attraction passes to all the travelers that are planning their trip to different country. They also has food vouchers and transportation passes like bus, train and ferry – all for affordable prices compare to other merchants.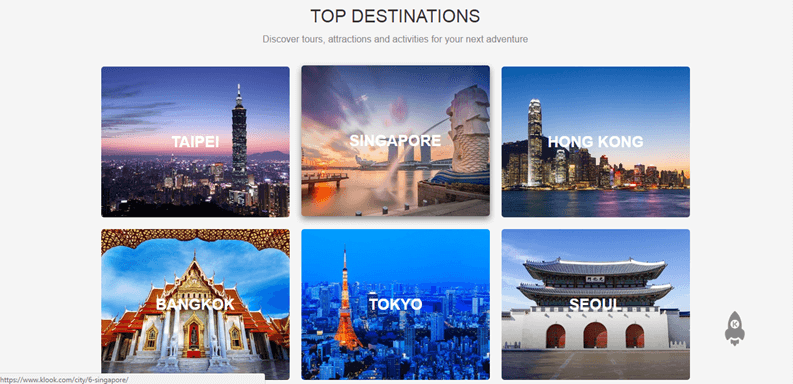 Klook is currently available to countries like; Philippines, Hong Kong, Macau, Singapore, Taiwan, Indonesia, Thailand, South Korea, Nepal, Japan, Cambodia, Mauritius, Australia, New Zealand, UAE, Bhutan, Vietnam, Malaysia, China and Myanmar. From the said countries, Klook offers great travel deals for every greatest spots in the whole world.
Our mission at Klook is to seek the best activities, presented to you on ou beautiful website and app. And to top it off, we'll always guarantee the best price with our exclusive insider deals. – KLOOK.com
They support different communities like Biciline (Tung Wah), Hong Kong Dolphinwatch and Bhutan Swallowtail which focuses on children's welfare and education and taking care of our wildlife.
Experience with Klook
Klook really helped me with booking different attractions to visit and experience in my trip to Hong Kong and Macau. The app is really user-friendly. The interface is very easy to maneuver, you'll find what you're looking for right away. Different countries are listed in the app in an eye-catching way because it is designed with that specific destination.
When choosing the activities, you'll find the activities you like to book by clicking the search button or scanning every categories of attraction like; tours, sightseeing, theme parks, food, transportation and such.
After booking, Klook will send you a voucher or QR code that you'll show to the entrance of the activity you have booked. For example, I booked my HK Disneyland ticket in Klook using the app. I just showed my voucher with QR code in the entrance of the Theme Park, then they scanned it on my phone. It's really easy and hassle-free.
Save more travel funds with Klook
Using Klook will help you save more money, hence more travel funds for you to bring when embarking on an adventure. I will list down the activities that I booked in Klook from my recent trip to Hong Kong and Macau. Then I will compare the discounted price and normal price, you'll see how much I have saved for this trip by using Klook.
Activities
Original Price
Klook Price
Disneyland Hong Kong
3,524 PHP
3,315 PHP
Ocean Park Hong Kong
2,517 PHP
2,230 PHP
Madame Tussauds HK
1,667 PHP
1,203 PHP
Ngong Ping 360
850 PHP
778 PHP
Airport Express & MTR Travel Pass
1,635 PHP
1,602 PHP
iVenture Card for HK and Macau
4,897 PHP
4,407 PHP
Tourist Octopus Card Hong Kong
641 PHP
641 PHP
Peak Tram Sky Pass Hong Kong
464 PHP
419 PHP
House of Dancing Waters Macau
3,792 PHP
3,635 PHP
Macau Open Top Bus Tour
2,942 PHP
2,374 PHP
Macau Tower Skywalk X
5,152 PHP
4,636 PHP
Hong Kong to Macau TurboJet Round trip
2,073 PHP
2,014 PHP
TOTAL
30,154 PHP
27,254 PHP
*all of these activities will have separate blogs.
What I Love About Klook Travel?
ONE STOP SHOP. Everything you need for an awesome is in one website or app. From an exciting tour, exhilarating theme park tickets, food tours, internet connection and transportation are all in the list.
SAVE UP FOR THE UPCOMING TRIP. Great deals are in store for you, you'll find the lowest deals online in Klook. They will help you save more and add travel funds for your trip.
HASSLE-FREE. You don't have to fall in long lines to get your tickets. You just have to show your voucher or QR code and you're good to go!
PLANNING MADE EASIER. Klook is accessible through their website and app which is available for both iOS and Android. Planning your trip would be easier by using Klook to book your activities for your next adventure.
I LOVE KLOOK TRAVEL
I highly recommend Klook Travel for planning your next trip. I have listed everything you need to know about Klook Travel and you just need to experience it first-hand to know how great and helpful Klook Travel is. I will surely also use Klook Travel on my upcoming trip next year and the trip after that. If you want to book you activities click here and register in Klook for more surprise and big discount that awaits you. Use my code 0407C to get 160 PHP credit for your first transaction.